Over 2 years on the road of over 35 countries, and plenty of stories and tips to share. Here are some of our favourite articles we've written.
1. Our most beautiful post: In Search of the Cassowary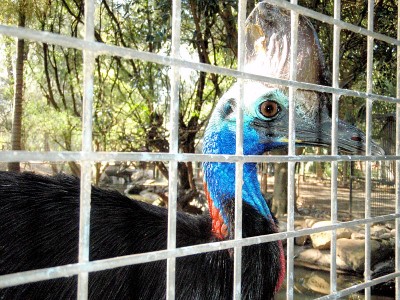 From the rainforest of Queensland, Australia, this post is about my unfulfilled obsession of spotting cassowaries in the wild.
"What's with this desire of seeing wild animals? If we just wanted to see a cassowary, we could easily visit a zoo or animal park. But there's something about seeing animals in their natural habitat. Freely roaming to wherever they wish to go, gathering food, hiding or running away from danger, playing and living their lives in their natural setting. No cage, no feeding schedule, no audience. They are wild! And now that we'd seen the cassowary signs everywhere, we knew we were so close to them. I wanted to see one very badly."
2. Our most popular post: Top 8 Animal Street Signs from Australia and New Zealand

As we traveled around Australia and New Zealand, I got very excited every time I saw one of the exotic animal street signs. It felt like I might get a chance to spot something amazing! It was more than just kangaroo and penguin signs, there were lots of other fascinating animal signs too. And every time I spotted one I peeled my eyes wide, trying to spot the animals from the road as we drove. Or I might take a walk in the woods for the chance to see them in the wild.
3. Our most controversial post: From the mass naked photo sessions to the mass naked bike rides
Maybe not controversial to most of our readers, but my mom back home in the rather conservative Indonesia was afraid I might get into trouble in Indonesia for having nudity content in our travel blog since it could be taken as pornography. Even though it indeed has nudity content, but it's about art and peaceful demonstration.
(Well, let's skip the picture to avoid nudity on this page. But go ahead check out the post!)
4. Our most helpful post: Transatlantic cruises for backpackers: a way to see more and pay less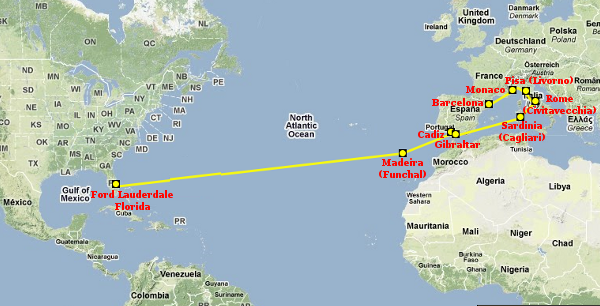 From the middle of Atlantic Ocean, this post reveals information that many people don't know yet: Luxurious transatlantic cruises can be a cheap alternative for migrating between the Americas and Europe if done the right way.
It's often cheaper than the cheapest flight, and you get to enjoy a nice cabin, all the food that you want on a luxurious cruise ship, and fun entertainment for about 2 weeks. You get to taste how it feels like to float on the ocean for a week without seeing any land, and you get to visit various ports and island destinations that otherwise are expensive to reach on a low backpacker budget.
5. A post whose success surprised us: Paddleboarding 101: How to Paddleboard from Honduras to Belize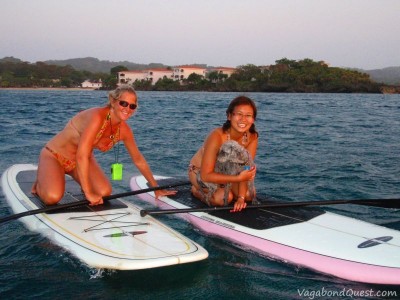 From Honduras, here's a tip on how to reach Belize by water. Don't forget to bring your passport with you!
…
Just kidding, this post is about when you almost lost one of your VagabondQuest bloggers to the sea.
6. A post we feel didn't get the attention it deserved: Black water rafting in the Waitomo glowworms caves of New Zealand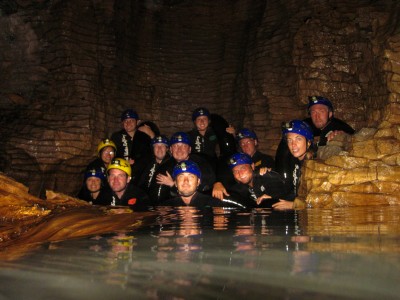 From New Zealand, this post is about one of the most bizarre little adventures that we had: cave tubing in an underground cave system, where the ceiling is decorated with big blue stars made of "glowworms" and  sometimes we had to jump backwards over a waterfall in the dark!
7. The post that we are most proud of: Fly Like Superman and Swing Like Tarzan in Costa Rica!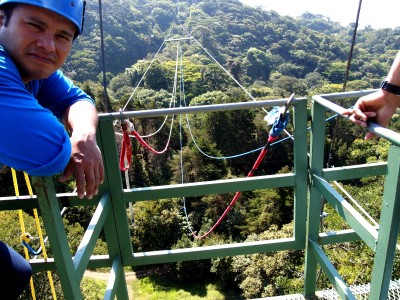 Doing the highest Tarzan Swing in Costa Rica is by far the most daring thing I've ever done in my life. What is a tarzan swing? Just imagine bungee jump, but the track is pendulum like. I sometimes still can't believe I did it from the height of 45 meters.
My terrified screaming while doing the Tarzan swing was recorded nicely in a VIDEO that you can see in the post or directly on Youtube.
* * * * *
Thank you for Tripbase that started this "My 7 Links Project", with the goal "to unite bloggers (from all sectors) in a joint endeavor to share lessons learned and create a bank of long but not forgotten blog posts that deserve to see the light of day again." Thank you Jaime (Breakaway Backpacker), thank you Sebastian (Off-The-Path), for nominating us to join this awesome project!
We would like to nominate following bloggers to continue the project:
Now, tell us what you think about our chosen 7 links!