Yes, it's right! We have been living on the road, traveling, vagabonding, living the nomadic life, for 2 years now! We set sail on April the 15th, 2009. We ditched our apartment and careers for our journey around the world. Are we crazy? Maybe. But the past 2 years have been the happiest period in our life! We have been chased by angry flocks of seagulls in France, joined a Ramadan bazaar in Turkey, campervanned the length of gorgeous New Zealand, fell on donkey poop in Santorini, watched the Geminids meteor shower in Fiji, got swept to sea in Honduras, and just 3 days ago, I swung 250 feet like Tarzan above a cloud forest canopy in Costa Rica! So, on this 2nd anniversary, we would love to share 10 photos representing 10 of the most memorable traveling moments we've had (so far)!
10. France: Chased by big flocks of angry seagulls in Frioul Island, off Marseille (story)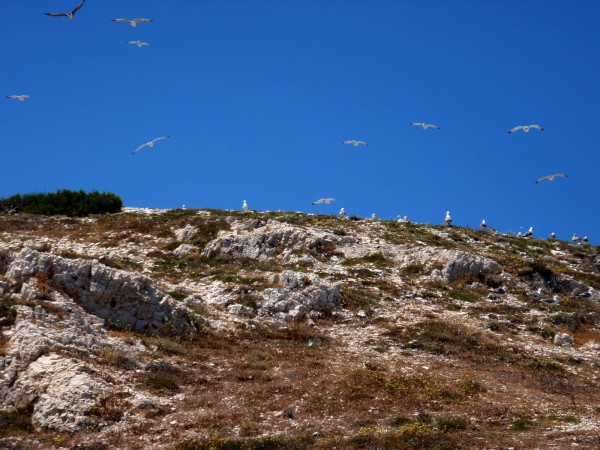 9. Greece: Relaxing in Crete Island. Enjoying the gorgeous sunset and the delicious local cuisine every evening
8. Turkey: Enjoying Ramadan Bazaar in the Hippodrome of Constantinople beside the Blue Mosque in Istanbul (read more)
7. Fiji: Eaten alive by a swarm of sea lice (tiny jellyfish?) while snorkeling in a lagoon (story)
6. Australia: Bouncing around on the pink salt lake in Murray-Sunset National Park in Victoria
5. Sint Maarten: Almost  rolled over by landing airplanes and sandblasted by departing ones (story)
4. New Zealand: Black Water Rafting on an underground river inside the Waitomo glowworm cave (story)
3. Nicaragua: Sleeping under the stars on the active Masaya Volcano and hiking to the crater to watch the sunrise
(with Jaime Breakaway Backpacker, Matt Expert Vagabond, and Lucero Super Xicana)
2. Honduras: Swept out to sea on a paddleboard in Roatan, Honduras (story)
1. Costa Rica: Swinging like Tarzan above the cloud forest canopy of Monteverde (story)
45m fall, 90m swing according to the brochure
I still can't believe that I dared to do this!!
Auoooooooo!!!!

So… Do tell us some of your best traveling moments!