New Zealand is not only full of natural beauty, but it's also home to some of the biggest carrots and gumboots in the world. Or, at least that's what they claim.
It seems that Kiwis (and Aussies too) love to create gigantic statues of things to serve as a landmark of their city. It's fun to check out the object they selected to represent their city – maybe it tells you something about the image they want their town to project. Or maybe they just picked something wacky. So, here are two of my favourite ones:
The largest carrot in the world, Ohakune

Ohakune is a ski town nearby the mount Raupehu, an active volcano that looks brown, rocky, and bare in the summer time, and is transformed into a skiing heaven in the winter time. When you visit Ohakune, you'll right away get the impression that the town's economy is dependent on ski tourism. Ski resorts, accommodations, and restaurants are everywhere, and the main outdoor and indoor decoration style is cozy wooden logs. Even in the summer it's winter-y, but a bit weird because so many things are closed, it looks like a ghost ski town.
Apparently ski accommodation are not the only thing that the city has. The people here are so proud to be the main supplier of carrots in New Zealand, so to celebrate that, they built the world's largest carrot, just on the east edge of town. I can't help thinking that it's too bad they didn't build a Bugs Bunny statue beside it, it would be entertainingly huge, and quite definitely could be the biggest Bugs Bunny in the world!
Gumboot capital of the world, Taihape
You read that right, gumboot! Those that who don't know gumboots, it's the rubber boot that almost knee high, used mostly in the area that is wet or marshy to avoid your shoes or pants to get wet. In other places they're called wellies, or rubber boots, or lots of other names, but in New Zealand they're gumboots.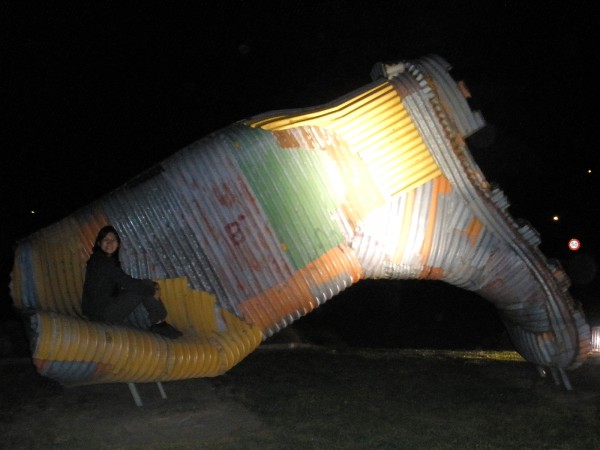 So, what's with the gumboot theme? Some locals told us that there's a lot of muddy farmland around there and gumboots are just a practical thing to wear, especially in the rainy season. A 70's comedian named John Clarke, originally from Taihape, often included some gumboot-themed scene in his sketches and mentioned Taihape as the gumboot capital of NZ. This theme caught on, and the town keeps their pride of being the gumboot capital of the world.
The giant gumboot statue is big enough to swallow several people, not only a leg. This statue is not the only gumboot related thing  in the city. If you happen to be in the area around Easter, you will be lucky to join the Gumboot Day celebration! In this annual Gumboot Festival, there are a lot of activities themed around gumboots, with the most iconic competition: Gumboot Throwing Contest! See how far you can throw a gumboot! Maybe start practicing at home?
And even if you can't be there around the festival, you still can visit the giant gumboot statue, and perhaps grab a pair of fun looking gumboots from the local shops.
Want more example of the biggest things in New Zealand? Check out the Kiwi's equivalent to Coca-Cola, the giant Lemon and Paeroa (L&P) bottle.
So, those are some wacky giant statues from New Zealand! What's your favourite wacky monument?