This is not a Pisa Tower envy, nor a purpose-built tourist attraction like puzzling world. This house is a real house, embedded at an extreme angle to the ground, just like in the picture. In fact, all the houses in the neighbourhood are at that angle too! So… how come?
This is a house on Baldwin Street, in a pretty city called Dunedin, in the South Island of New Zealand. This street gained the title of the World's Steepest Residential Street at 35% grade from the Guinness Book of Records, even though there's a controversy about this title. I think the length of the road that is in great slope plays a big road in the title here, since I've seen many super slopey road before, but usually the extreme slope is only for a short distance, while Baldwin Street is about 350 meters long and the slope is the whole way.
 

Baldwin Street view, image by Ulrich Neumann © at www.nzpix.com
It was a gloomy day when we were in Dunedin. Dunedin itself is a pretty city with nice architecture near the gorgeous Otago Peninsula, where the rare royal albatross with its 3 meter wingspan can be found. Or so we heard, since when we were there nothing could fly without getting blown away in the howling wind and rain.
We arrived at the bottom of the Baldwin Street, about an hour or two after sunset. It was dark and rain was still falling. We looked up to the stretch of the road, and said, holy cow, it's steep indeed for a residential area. Who would want their house in this location? We heard before that the steepness of streets in this location was not intentional, and that the grid-patterned street planning was done in back London, England, and they didn't really considering the area's topography in the planning so they ended up with this extreme slope.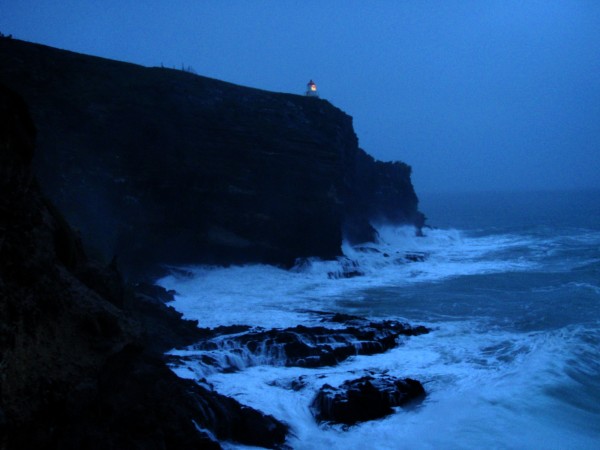 Gloomy day at Otago Peninsula, still gorgeous for me.
The beginning of the road is just mildly sloped, but it gets more angled further up. The road looked a little bit treacherous with the angle and the rain, and we were afraid a 3 point turn up there wouldn't be that much fun. So we parked our car at the bottom and started sprinting up under the rain. Now we know who'd buy a house here: exercise lovers. They save money by not going to the gym, just jogging up and down the road!
Ryan jogged up much faster than me. Not only he is stronger than me, but also he hated rain. I didn't mind the rain since I'd been rained a lot that day for taking pictures anyway, while Ryan was waiting in the car (he drives, I navigate and take photos). We didn't get all the way up since it rains even harder. He was not very patient when I started setting up my camera under the rain in perfect parallel to the road angle to take long-exposure night shot of a pretty house there, with him as a model in the picture (meaning he was not allowed to move much).
He was even more impatient when I asked him to take my photo with the house, and managed taking a full body photo of me in front of the house without much of the house, with totally straight angle to the gravity. He managed to take the least interesting photo possible! No, Ryan, I want the cool angle! Ryan, please stand further back, I want the whole house in! But he jogged away already with the camera…
Have a told you before that I have unreasonable phobia of walking on slippery angled surface? The gush of the rain water down the road didn't help. Just don't buy me a house here, except you think it could be a good therapy for me. This street is a no joke though. In 2001, there was a 19 year old university student that was killed instantly after sledging down the road inside a wheelie bin (big garbage bin with wheels) and crashing into a parked trailer at the bottom. Ryan realized I walked too slowly, so he ran back to me, and dragged me down the hill. Thanks, Ryan!
Whew, we got to the car. Wet but happy. We giggled a little bit, drank some sips of flat room-temperatured L&P soda from a gigantic 2L bottle or so, and we were on our way again!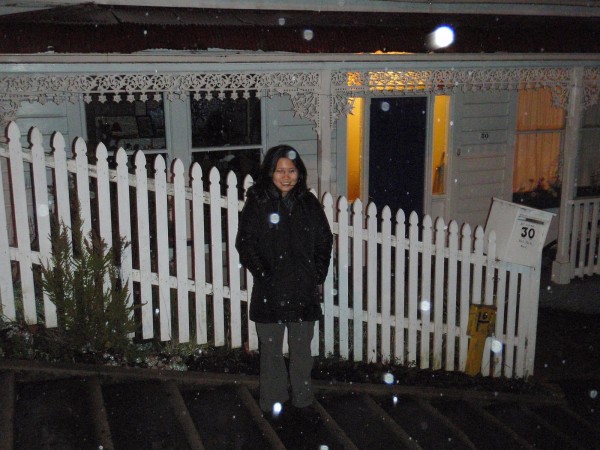 No, no Ryan, wrong angle! Step back…
PS-1: I ended up happy with Ryan's shot of me, because it is in contrast with my shot. Letting us seeing the street from 2 different points of view (literally).
PS-2: Do you realize that the house's mail box is made parallel to the street angle, not to the gravity?