New Zealand is picked by many people, including me, as one of the most beautiful place on earth. In February 2010, we had a great opportunity to do a week road trip in the North Island of New Zealand, from Wellington to Auckland. In the North Island, you could drive for an hour or two, the scenery could change quite drastically, and they are all gorgeous! I saw so much natural beauty that I have never seen in other places before. It was a tough task to cut down the list of places to visit to fit one week itinerary! I will talk about this itinerary another time, but now I want to share one of NZ's "hidden" beauty: "Orakei Korako", also called the Hidden Valley.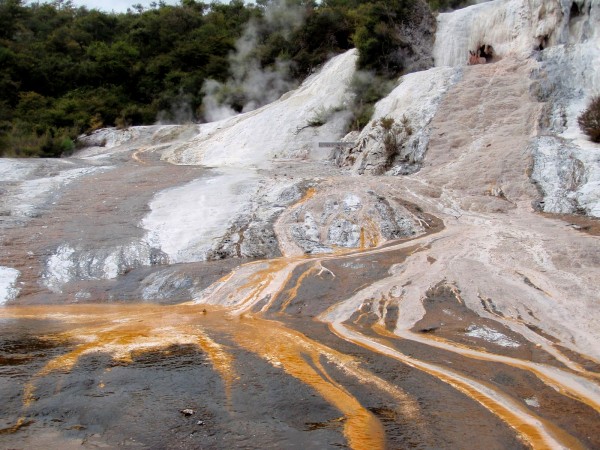 So, what is this Orakei Korako? The name itself, Orakei Korako, is Maori language meaning the place of adorning. It is one of the highly active geothermal areas you can find in the North Island, with its gorgeous silica terraces, numerous active geysers, boiling hot crystal clear pools, muddy mud pools, and colorful algae layers that complete the beauty of this valley. It's even mentioned in the Lonely Planet Guide : "…Orakei Korako is possibly the best thermal area left in New Zealand and one of the finest in the world…"
This hidden valley is located across the Lake Ohakuri from where you park and pay the entrance fee. In the past, tourists crossed this water by canoe, but now there's a little ferry that transports you to the other side of water body. Even at that time when we could only see a little bit of the silica terrace, I was already awed by it. I have never seen a colorful silica terrace before!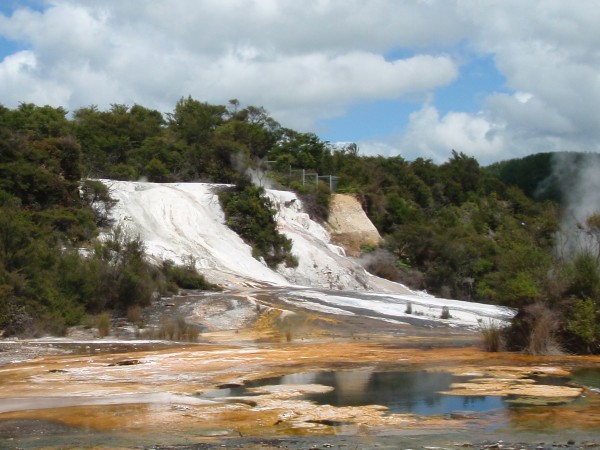 Trickling over these silica terraces everyday is up to 20 million liters of silica rich boiling hot water, coming from the various earth cracks like the geysers, the hot springs, and the hot mud holes. The silica thickness itself is varied between 20mm to 2m, so you better not stray away from the pathways: you might step into a surface that looks solid, only to find yourself immersed in boiling hot water! Very dangerous! Touch the earth, it feels warm! Even though we didn't run around above silica terrace and jump into the hot boiling pool, we did dip our finger to the water trickle under the wooden pathway, and it was quite hot. Even the air temperature there is warmer than in the other side of the lake by about, if I'm not mistaken, 4° Celsius.
One famous geyser there is called the Diamond Geyser. It erupts unpredictably, and unfortunately was not erupting when we visited. This geyser is just located a couple of metres beside the pathway, and it's said it can eject the boiling water up to 8 metres. I really couldn't imagine what would happen if it suddenly erupted when I was standing right beside it that close! I'm sure I would had gotten sprayed! I wished though, that it would happen because it would be such a cool experience to see and I could probably have gotten out of the way. Unfortunately the Diamond Geyser stayed quiet.
We did enjoy the awesome view of the Sapphire Geyser's eruptions! This is my first geyser spotting, so I was really excited and jumping up and down seeing it! Except that I couldn't jump up and down the whole time, because the eruption was lasting for quite a long time.
There are so many geysers of various size in the location. New ones frequently form, and old ones die. The ones that are still active erupted at an unpredictable schedule. This beautiful hot pool in the picture above was a geyser for a year during the 50s.
One of the most stunning views is from an area called the Artist Palette. The name describes the beauty: a large silica terrace with colorful hot bubbling pools, that you can see from high up, showing the overall picture under you, with all different colours like an artist's painting palette. Here and there you see small geysers erupt from various different pools.
You might be wondering about the beautiful orange, green, brown and black colors on the silica terrace. What are they? They are actually hot water algae! They are growing on the silica surface when water trickles through it, in the temperatures up to 60° Celsius.
Not only the crystal clear hot boiling pools, this valley also offers you the thick mud bubbling pools. As usual, Ryan walked far in front of me, as I walked slowly behind him and made a lot of stops to take pictures from every angle. I could see Ryan already reached the mud pool area, and I saw him started to dance funnily. I was laughing and ran to where he was, and soon enough the force of nature made me dance too! So what was going on? Can you guess? This mud pools area apparently is very infested with sand flies and they loved to land on our body. Driving us nuts and making us flail constantly to make them go away without much success, thus we looked like we were dancing! Between my flailings I tried to enjoy the view as much as I could. The large mud pools were gurgling here and there by the boiling mud water. I liked this view too because pretty much I like everything unique, but the swarming sand flies got too overwhelming, and I did my good bye dance to the mud pools.
In such a geyserland, I was surprised to see a cave! This Ruatapu Cave is one of the only two known caves in the world that is located in geothermal area, the other one being in the Southern Italy. People still don't know how this cave was formed. Was it a cave-in, or a giant hydrothermal eruption, that caused the cave to form. This cave opening is very large and angled down with a length of 45m and vertical drop of 23m. In this slope they built a long stair case where you can walk down to the bottom. In the bottommost of the cave, there's a shallow jade-coloured pool that give you a feeling of serenity.
I don't know what extend behind this pool, and I'm curious about it. It says that this warm pool has a mineral composition of jewelry cleaning solution, so supposedly you can clean your jewelry there by dipping it for 5 minutes. Ryan tried to clean his wedding ring in the pool, but for much shorter period of time than suggested. His comment was "I guess it's shinier…" We were also looking for pieces of jewelry that some people might have accidentally dropped while cleaning, but with zero result.
A little history of this gorgeous land. This silica terraces have been here since many thousands of years ago. Three fault scarps that you see in some pictures are formed by a massive earthquake 131 AD, around the time the volcano Lake Taupo was erupting. The silica terrace didn't stop in the lake water as you see in the photo, but extends for some 35 more meters under the water. This part of terrace used to be exposed to the air as well, but in 1961, the water level of lake Ohakuri along with other water body was raised for a hydropower development. This raised the water level by 18 meters in Lake Ohakuri, thus the two thirds part of the active thermal area was flooded, with approximately 200 hot springs and 70 geysers on it. This including 2 of the world largest known geysers: Minginui and Orakei Korako Geysers used, that used to erupt as high as 90 m and 55 m consecutively. It makes me sad that such a great beauty is gone by men decision, however the human population do enjoy the power generated by this. I guess the reason is just much more complicated than preserving natural beauty? What's your take on it?
The only thing that made me easier to leave such an awesome nature beauty was my urge to use a toilet, since there was none in the valley, and I really don't think peeing in a silica terrace or hot pool is appropriate.
So, have you been there? Or did I convince you to go there in your next NZ trip? Share your story and opinion here!