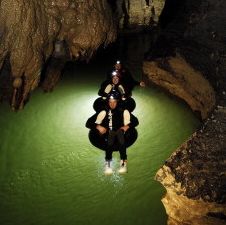 Have you heard of "black water rafting"? More or less, black water rafting is a fun, exciting and adrenalin pumping sport where you use an inflated rubber inner tube (the kind you find in a vehicle tire) to float down the dark underground cave river. It's also called the "cave tubing" for that reason. It involves floating in the underground calm water, rushing down the rapids, going over the underground water falls, crawling through narrow passages, and walking through shallow and uneven river. Sometimes this activity is combined with cave climbing as well. It's called black water rafting as opposed to the common white water rafting, because it is really dark inside the cave so the water looks black.
Black water rafting (BWR) is still a rare sport in the world. We were lucky to join the adventure in the birth place of the BWR, the Waitomo caves! Let me tell you first about the Waitomo Caves, because that place is quite fabulous.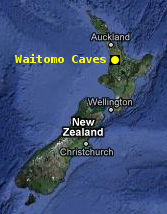 Waitomo is a region in the North Island, New Zealand, known as a home of many underground caves in the location. There are about 300 known limestone caves underneath the hills, which have evolved since this area was still submerged under the sea over 30 million years ago. Inside the Waitomo caves, you will find gorgeous stalactites, stalagmites, limestone pillars and curtains, and my favourite: the glowworms! Brilliant blue radiating creatures that cling under the cave ceilings, make you feel like looking at a gorgeous starry night sky.
You can enjoy the beauty of Waitomo caves by guided walk and boat ride tours*, or if you want to enjoy it in more unusual, fun, adventurous and exotic way, try the black water rafting! They have 2 packages offered: Black Labyrinth that involves BWR and mild caving, and the more hard core Black Abyss that also involves cave climbing, abseiling (sliding down a rope), and flying fox! There's also another company that offers adventurous glowworm cave explorations, as Nora shared her thrilling experience of abseiling a 100 metre drop into the cave!
What about us? We took the Black Labyrinth Tour. The only thing you need to bring yourself are bathing suit and towels. That's all. Or you can even omit the towel if you don't mind going home wet. Yes, you will get soaking wet. Other than that, they gave us the wet suit, wet jacket, helmet with head lamp, wet socks, wet shoes, and……. the tube! And for goodness sake, choose the tube that is actually large enough for your bum! Don't pretend you have a small bum if yours is large. If it doesn't fit now, it won't fit later.
Once we dressed up, I thought they will bring us to the cave right away, but instead they took us to a river for practicing"jumping over waterfall"! I thought at first we would just going to roll over the fall as we hit it, but not quite! Maybe it's not even safe that way, but I never tried it myself. So guys, here's the instruction on how to do it. Stand right on the edge of the waterfall facing backward. Place the tube around your bum, and then jump backward as far as you can, target to fall on your bum. Try to not flip upside down, as you might fall on some rocks. And oh yeah, just in case you feel scared, they will push your chest hard anyway in the count of three. That's it. What do you think? Thrilling? Scary? Fun? Easy? Whatever you think, in fact none of us in the group looking photogenic during the jump.
We were about to enter the Ruakuri cave, one of the best caves in Waitomo. The cave mouth was really small, you might not even able to see it from the picture below even though it was right there. It was a squeeze-tight small. After entering, we climbed down a little bit, and the cave journey was started.
Crawling inside a cave with rushing water for the first time, I felt like I was inside an intestine. It was dark. The ceiling was low. Ceiling, wall and floor was all uneven with limestone formations everywhere. Stalactites jutting down the roof. Many times we were crawling on the shallow rapid water, you couldn't see what you were stepping into, but it's uneven. During the first half of being inside the cave, we did quite bit of crawling and short distance tubing when the water was deep enough.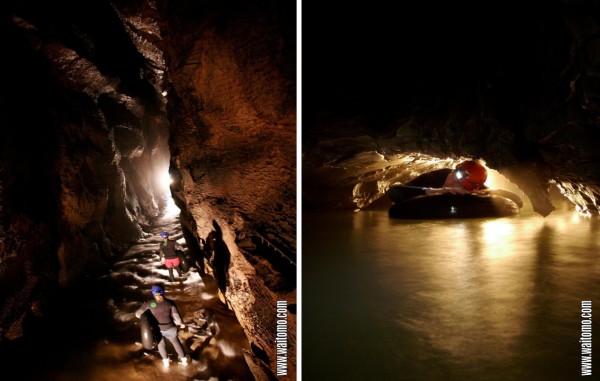 In one of our stops, we were entertained by big chocolate covered marshmallow in the shape of fish. A good sugary food to keep us up. I felt like Gollum, eating his favourite food fisssh, that the meat is so sssweet….
Our first sight of glowworm was unforgettable. The cave ceiling was low, and we were tubing right underneath it. Beautiful big brilliant blue stars within our reach.
So, what is a glowworm? A glowworm found in New Zealand is a maggot like larvae of 2-winged insect that is called arachnocampa luminosa. It's hatched 3 mm long, and within 9 months grows into a matchstick size. A glowworm glows due to bioluminescence process in their rear part, to attract its prey and to burn off body waste. You can see the rod curtains like white-transparent threads hanging from the ceiling (picture above, right), which are actually the sticky lines created by the glowworms to traps the insects that fly toward their glow. These glowworms can only survive inside caves like this, because they need their environment to be damp, dark, windless, and also need to hang down from a horizontal platform. Darkness so they can attract the prey with their glows. Horizontal so they can hang their sticky trap lines, and windless so the lines don't get dry and tangled up. A humid cave with river flow is ideal! Are you curious about the adult life of these glowing larvae? After 9 months these glowing creatures will enter their cocoon stage for 13 days, and then emerged out as mouthless large mosquito-like insects. Mouthless? How do they eat? They can't! Pretty much they will find a partner of opposite sex right away: If you are the female one, your guy will probably be already waiting in front of you the moment you emerge from your cocoon! No time to put on make up. They mate, lay eggs, and die within a few days!
Our expedition continued…
As they promised, we went through a couple of underground waterfalls! We needed to do what we had practiced before, only this time, it was really dark. We had to find a safe spot to stand on the waterfall edge without falling prematurely, and jumped back into the nothingness. Yes, you couldn't even see what you are jumping into. We couldn't see how high was the fall, whether underneath there were rocks to be avoided (so I hit some of them), or how far was the wall so you won't launched yourself to that. Oh, also the underground water was very cold! Wait! Wait…..! Give me a second….. Wait….. (while the guide said, "one, two three," push! And I'm gone) *plunged*
I survived, and even enjoyed the next waterfall jump actually. The rest of the journey was easier and calmer. The river was widen and deepen, the ceiling was far away high. We float gently on the calm water, facing up, seeing the beautiful stalactites and blue stars. It was truly serene.
Unfortunately, the journey had to end. That was right after I almost became faceless upon scrapping my entire face to a big stalactite right in the cave mouth that somehow I failed to notice. Ryan thought it was amusing so he was just laughing instead of pulling me away!
We had a blast! One of my very favourite moment of our backpacking journey so far! You must include Waitomo Caves in your itinerary if you come to the North Island of New Zealand. If you do so, please come back here to share your experience! Or, have you done this before? Or something similar? Share with us!
Notes:
* When and where: 25 Feb 2010, Ruakuri Cave of Waitomo, NZ
* About photographs: Taking photograph is prohibited during the tour. A few pictures of us were taken by our tour guides. In the photos DVD that we purchased, there are some other pictures from different expedition to illustrate the journey. Other pictures are courtesy by www.waitomo.com.
* Official website: http://www.waitomo.com/
Check the official website for pricing information. Booking might be required, and there's 10% discount if you book through their site.
* Special thanks to our guide: Tom and Ryan