Our stay in Fiji was short and sweet. It was actually an extended transit stop flying from Sydney, Australia, to Los Angeles, USA. Transiting in Fiji for 2 hours? Why not make it a few days for the same price?
So, here are our Fiji highlights:
1. Viewing an atoll from the sky on our approach to Fiji.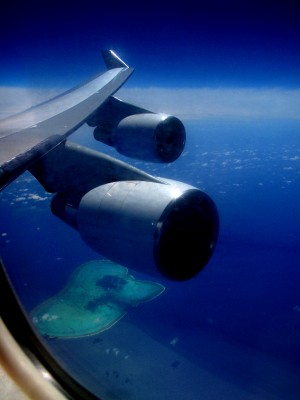 2. Enjoying the perfect reflection of nature on the calm lagoon water.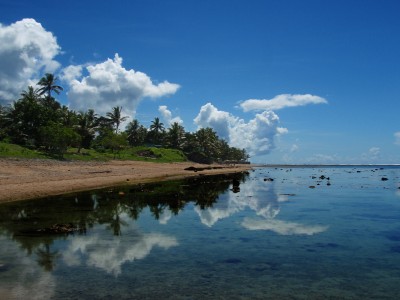 3. Relaxing under coconut trees, overlooking the blue lagoon.
4. Taking a stroll along the lagoon beach and inspecting the long sea worm, or… I'm not sure the name of this 1 meter long creature.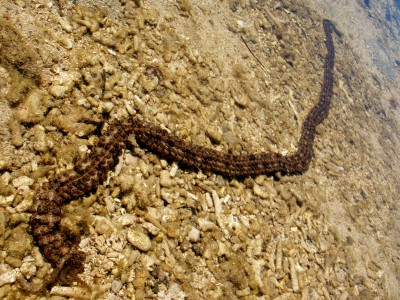 5. Watching Fijian men fishing by hand in the morning.
6. Eating the savory local meal "fish in lolo" and the sweet dessert "banana in lolo". Lolo means coconut milk, and these warm dishes are so in tune with the relaxing mood of the island. I ate them every day.
7. Joining a yaqona/kava ceremony to enjoy this mildly sedating root drink. Sensation we got? Mouth and tongue felt a little bit tingling and numbing. Did we feel relaxed? Ryan did, not sure about me though. Maybe I needed to drink more than 1 cup. The taste? Grab a handful of soil in the backyard, mix it in a bowl of water, drink it. It tasted like that!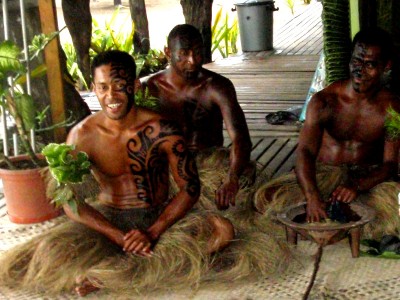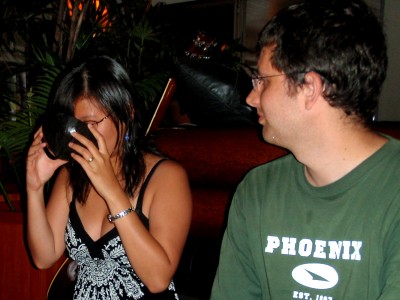 8. Shouting "Bula", Fijian for "hello", to anybody around us. Sure we received hundreds of bula shout-outs from random people during our short stay there, even from the people on the back of a pick-up truck passing by.
9. Checking out Sigatoka, a Fijian town. The town has a charming Hindu temple on the hill, but the broken train track bridge remains to be the scene I remembered the most. A couple of hears ago, a massive flood wiped out one part of this bridge.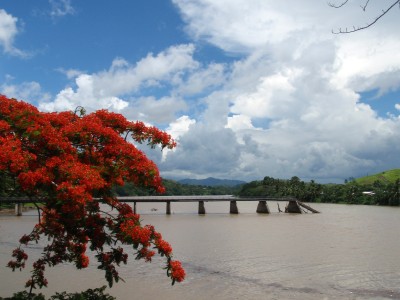 10. Waking up at 2:00 AM to enjoy the Geminids meteor shower
that coincided with out stay in Fiji. We saw 26 meteors during 25 minutes of watching! And being out on the island was great for stargazing, with very little light pollution.
11. Showering using a "bucket" shower. So, you fill in the bucket with water yourself, hang that bucket on the ceiling, then open the shower knob on the bottom!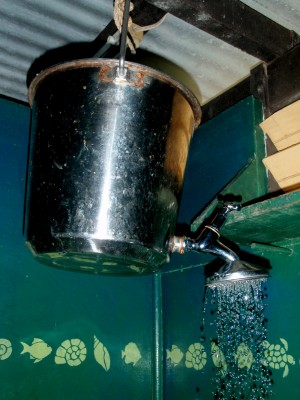 12. Watching our first fire dance performance. Seeing two beginner guys practicing fire spinning was already fun enough, but watching the full show with many performers like this was amazing.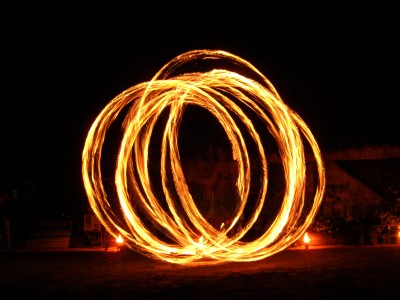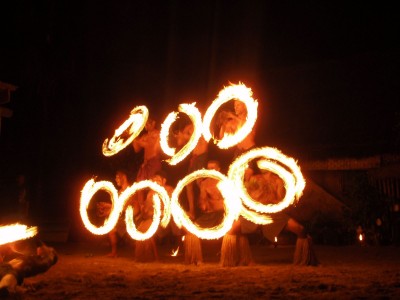 13. Trying to enjoy the sunset on a cloudy and drizzly day. Not a great sunset, but still romantic enough for us.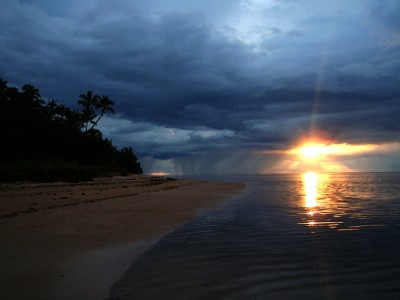 14. Our worst snorkeling experience ever: Snorkeling in a bowl of "sea lice" soup. The snorkeling on the coral reefs was okay in the beginning, until we passed this concentration "sea lice" (as the guide called it). Thousands of burning hot stinging needles attacked all over our body. The boat had to rescue use from the water. The stinging and itching bumps didn't go until several weeks, but hey, that was not the first time I suffered from an everlasting itch!
So, should we call this a "lowlight" or a highlight? Of all those supposedly great snorkeling sites in Fiji, this happened to be the one that we jumped in!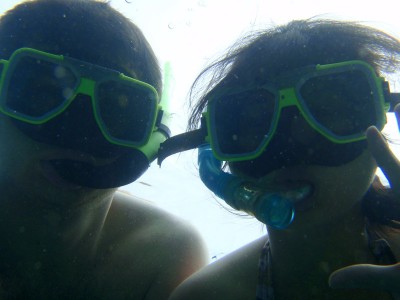 So, those are the 14 highlights of our Fiji experience. Which do you think you want to try in your Fiji visit? If you've been there, what's your highlight?