Ryan and I were heading from Sydney to Cairns, a city famous as a gateway to the Great Barrier Reef in Queensland, Australia. After driving more than 2300 km over several days, we entered a region called the Cassowary Coast. Cassowary Coast? My heart jumped in excitement when I heard that name! Neither of us really knew much about cassowaries, other than that they're some kind of large, rare bird. Do cassowaries really live here?
That afternoon, we decided to spend the night in a beachfront caravan park in Cowley Beach, not too far from Cairns. As we drove through some corn and banana cropland, we noticed an unusual street sign. It warned of a crossing animal, to be sure, but we didn't really recognize  the animal. It looked like a strange ostrich, or maybe a stretched chicken. We knew it must be a cassowary!
That afternoon we walked along the pretty white sandy beach. It was beautiful, but I couldn't help thinking, wouldn't it be fun if a cassowary strayed from the forest and walked along the beach toward us. I wanted to see a wild cassowary! The next morning, I woke up early and searched the beach for the last time before we left. Nice beach, but no big birds.
What's with this desire of seeing wild animals? If we just wanted to see a cassowary, we could easily visit a zoo or animal park. Many of them have cassowaries in their collection. But there's something about seeing animals in their natural habitat. Freely roaming to wherever they wish to go, gathering food, hiding or running away from danger, playing and living their lives in their natural setting. No cage, no feeding schedule, no audience. They are wild! And now that we'd seen the cassowary signs everywhere, we knew we were so close to them. I wanted to see one very badly!

Kuranda Rainforest
In Kuranda, a town surrounded by rainforest not too far from Cairns, my hope to see the cassowaries went up again, as we saw some signs along the road. In town we met a nice elderly man who told us that there were a couple of sightings at the nearby river two days ago. That just put our hopes up even higher. We did some walking tracks that day in the forest, moving very quietly so as not to spook any cassowaries. We also went on a boat trip along the river. Beautiful nature with many birds, some turtles and freshwater crocodiles. But no cassowary! We were told that they are shy animals, who will hide when they detect humans. Good idea, birds! Not all humans are nice to animals. But, I want to see you!
We drove around in the forest, and guess what we saw! A "recent cassowary crossing" sign! To make drivers careful, not to roll over a cassowary if it happens to be on the road. I was delighted! It was a recent crossing, could it be still around? We drove slowly, with our eyes skimming carefully between the trees. The forests are very large, and the road cutting through them can only see a tiny slice. No luck, no cassowary that day.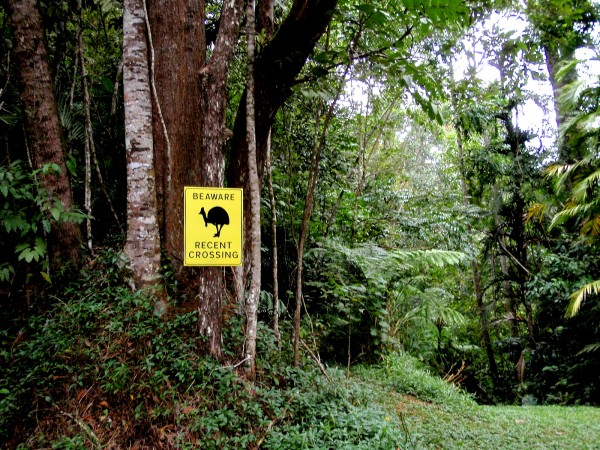 By this time, I had examined many cassowary picture from postcards, brochures, and wildlife posters I found in tourist info sites and souvenir shops. A tall flightless bird, only a little shorter than ostrich and emu, and in between them in thickness. Beautiful brilliant blue neck, red wattles, black feathers covering the body, and a big brown crest on the head called a casque. That brown casque, I was so curious about it. To me, it looked like a meaty or spongy soft crest. I wanted to touch it. I wanted to squeeze it!

Daintree beach and rainforest
We spent a couple of days camping in the forest, hiking the walking trails, always vigilant for any signs of the cassowary. We strained our ears for any little noises the forest made. Every scratch, or cluck, or fluttering sound made us freeze in silence, hoping that this time we'd see the object our of search. But every time it turned out to be the small Australian brush turkey instead. These little turkeys were everywhere! But we were so sure sometimes that the footsteps were heavier than just a little animal footsteps. Our imaginations ran wild, and we started to imagine that every footprint we saw had come from a cassowary.

Australian brush turkey
We even encountered a picnic area that had signs warning people not to feed cassowaries. Did that mean cassowaries in this area are not too shy around humans? Would they come to us then? We waited there for hours, but the bird never appeared.
My curiosity about the bird kept growing. I want to squeeze and feel that brown crest even more. Meaty and rubbery in my mind, even though Ryan kept saying that it's going to be much harder than I imagine, and not squeezable like a sponge. Well, deep inside I knew I won't do it because it will disturb them. But at that moment, I was so curious. We are not supposed to touch a wild animal, especially a dangerous one like this. Dangerous? Yes, cassowary can be a dangerous bird. It can give you a high jump and strong kick, and its middle claws are strong and sharp like a dagger. It could rip your skin and flesh easily.

Taking a peek from a scenic stop at Daintree Forest. Could there be cassowaries below?
Finally, it was time for us to go back to Sydney. Our Queensland trip had been amazing. Tropical rainforests, mangroves, Atherton Tableland, Daintree rainforest and river, crocodiles, the Great Barrier Reef with amazing SCUBA diving, the waterfalls, the white sand beaches, the caves, the wild flora and fauna, and many more. But we never did see a wild cassowary.Still, there's a little voice in my head telling me that it's probably for the best for the best that they're avoiding us. So many other animals have been harmed by getting too close to us. We didn't see one, but I know they're out there and it makes me happy thinking about these big, beautiful, shy birds roaming the deepest parts of the rainforest.

Cassowary in Featherdale Wildlife Park, Sydney
We did, eventually, see a cassowary, but it was behind bars in a wildlife park. It looked kind of sad in there, pacing back and forth, with nowhere to go and nothing to do. Part of me wanted to break the cage open and take it back to the rainforest where it belongs.
Have you ever searched for something and never found it? Got a story about the one that got away? Tell us about it in the comments!