When I'm in a big city, sometimes I get overwhelmed by the city's skyscrapers, activity and routine. When those moments come, I need an escape. For me, my escape is the beauty of nature, and city gardens are usually do it for me. In Sydney, that place is the city's botanical garden. Beyond the obvious beauty of any botanical garden in the world, these are some special reasons why I love this place:
It's a cockatoo paradise
The first time I heard from Sydneysiders that cockatoos fly free in the suburbs around Sydney, I was astonished. I was invited to a BBQ party (or barbie, Aussies call it) somewhere about an hour away from the downtown, and sure enough, I saw cockatoos flying around free! They are charming white cockatoos with a yellow crest and a very loud screech.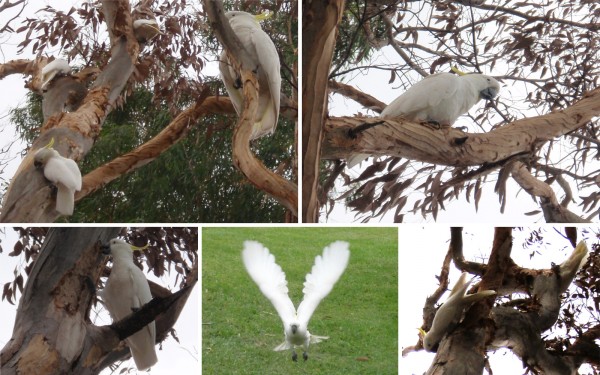 I didn't expect to see cockatoos like that in the middle of downtown Sydney, but I was wrong! I was walking around a park near a harbour one day, admiring some trees around me, when I saw a cockatoo flying above me. So I followed this little screechy beauty, and it led me to the city's botanical garden.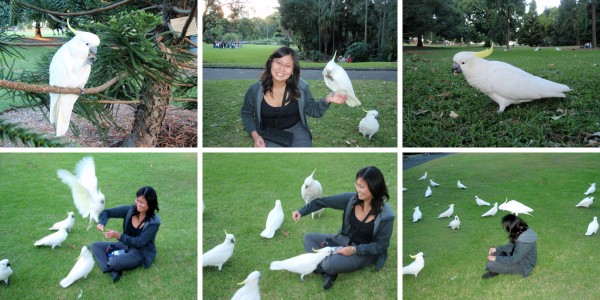 There must be hundreds of white cockatoos with yellow crests living in this garden. I spent so much time observing their funny behaviour. They love biting tree bark. Love it so much that sometimes they will do that hanging from a tree branch almost upside down! This botanical garden is huge, and when I'm in there, usually I don't know where I am going, because I'm running here and there following the crowd of cockatoos. At one point, all the cockatoos flew to a single point: a man with a bag of bread crumbs. I sat on the grass near that, stole a little piece of bread from between cockatoos' feet, and lured them to me, and it worked! Many jumped to my lap, my arms, shoulders, and even my head! Have you seen the movie The Birds by Alfred Hitchcock? It reminded me of that, except that it was a flock of white cockatoos with silly yellow combs, instead of creepy birds. Cockatoos will definitely be one of the things that I remember the most about Sydney!
It's a flying fox paradise
Even though the people in charge with the garden don't want the flying foxes to be there because they are destroying many trees in the garden, these thousands of flying foxes love this place. I love them to be there too because they make quite a sight, although I might change my opinion if I were in charge of keeping the trees healthy. During the sunlight, these bats are cozily hanging down, resting in the trees, wings wrapped tight around their bodies. Most of them look like they're in a deep sleep, even though you can see them stirring here and there, and some of them even playing a bit with the neighbouring bats.
These sleeping flying foxes hanging in the trees with orange coloured fur make a beautiful sight that I haven't seen elsewhere. Well, I had seen bat caves before, with hundreds or thousands of bats hanging in cave mouth. But I haven't seen a huge crowd hanging from the trees like this, not mentioning it's downtown Sydney!
At dusk, once the sun has set, lay down on the grass somewhere west of the bats' hostel (I mean, the trees where they were sleeping), and this will make another great scene: hundreds of bats flying west chasing the setting sun! It was serene yet ominous… seeing the silhouette of them slowly flapping their wings above you without sound under the almost-dark sky. Just be sure though, to run to the gate of the garden before it closes because it will be locked just a half an hour after the sun has set.
The trees
I'm not sure why some trees interest me so much, but they do! Trees and animals fill my camera's memory card so quickly. There are a lot of interesting trees and shrubs of various sizes and ages in this garden, but there's this one tree that particularly intrigued me. The weirdest looking tree I've ever seen!
Look carefully at the tree left of the pathway. Notice anything interesting? Not yet? Trace that tree's branch on the right…. keep tracing…. it's becoming another tree!! Or rather, many tree columns, that actually is just one connecting tree! This tree, that is called Ficus macrophylla columnaris, has the ability to grow straight down forming the aerial roots, that look like the trunks. Finding the main tree is not easy. Even with me walking around it,  I can't pin point to which trunk is the main tree. However apparently it doesn't have to own its own main trunk! This tree could start grow on other (host) tree branch, and eventually strangle the host to its death, while this columnaris tree itself is thriving with its many column roots.

The sunset over the Opera House

Who doesn't like sunset? We have tried to capture many stunning sunsets around the world with our camera, and these ones from the botanical garden add to our collection.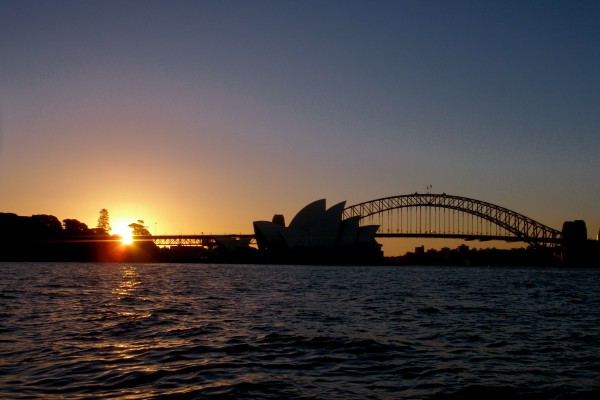 These are why I love Sydney Botanical Garden. What about you? Do you like botanical gardens or city parks? What about cockatoos and other birds? Or weird trees? What kind of feeling do they give you? Share what you think here!
Update: Just in case you don't like the idea of seeing flying foxes aka. bats, don't worry. Most part of the park doesn't have the bats sleeping trees, they are concentrated in a small area.

Related Posts by Others: