In general, I don't like vandalism, and especially vandalism to street signs. But if you checked out the "before and after" cassowary street sign from the last animal street sign post, you saw an example of a vandalism that I think is hilarious. I'd rather call this modification than vandalism, and I think it's a lot of fun.
As we drove from Sydney to the Sunset Murray National Park in Victoria, we saw a lot of kangaroo street signs. We tend to not pay much attention to it since after being in Australia for a while, we saw so many of them.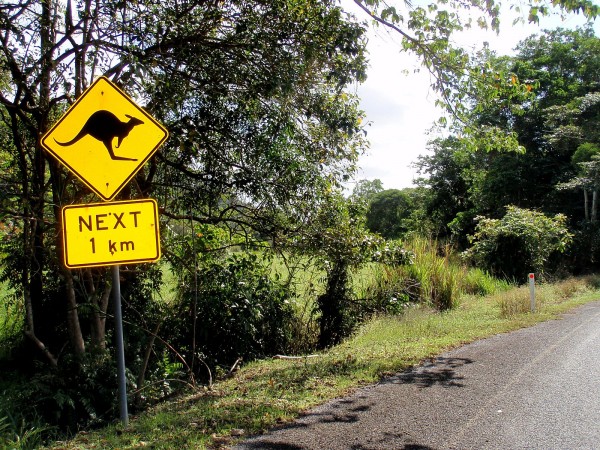 So I was in a state of shock when I happened to actually pay attention to one of this sign:
The kangaroo had a pair of balls!!
What??!!
I'm serious, it's a male kangaroo street sign! Check this out: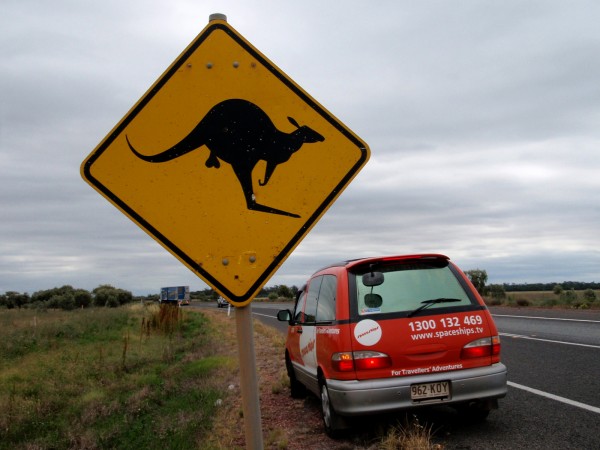 I was in shock. This came to my mind: Was it only me, never realizing that after all, those kangaroo signs have kangaroo balls in it? I even had a post about animal street signs, with pictures, and I forgot about the balls? That can't be it!
You've got to forgive my silly thoughts, of course they wouldn't print such a thing, but I was just waking up from my dreamy car-nap, I'm much more gullible in that state. And Aussies do have a pretty quirky sense of humour…
On closer inspection, it looked like some ballsy dudes added a piece of art to the regular neutered kangaroo. It's just a piece of black duct-tape, cut in the shape of balls. What a genius idea! The blackness is matching color with the kangaroo body, and it's waterproof so it will last for long time on the road in any weather.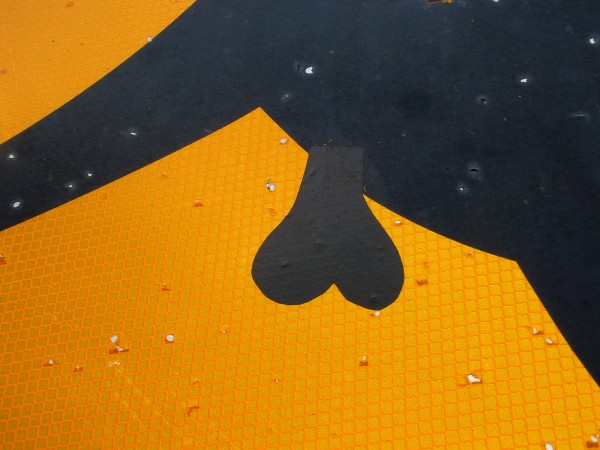 There you go, ballsy kangaroo! We love it. And turn out that there are several more "male" kangaroo signs along the way. We laughed. Funny to imagine this creator carrying a stack of ball-shaped duct-tape (or could also be cut one by one on spot), driving along and carefully sticking these pieces of art to the street sign. I want to give a shout out to whoever is behind it: Great job, guys, it was very entertaining!
Note: Despite the cuteness of the kangaroo street signs, the danger is real. Kangaroos are plentiful in the Australian outback, and driving at night can be really dangerous. Read the driving stories from Mike and Amanda about their dangerous encounters with kangaroos.
Have you encountered something like this? Share the story!