One of our backpacking missions is to enjoy and capture beautiful sunrises and sunsets from around the world. Trouble is, we're hardly ever up early enough to catch the sunrise, so we've ended up with mostly sunset photos. For us, we're more likely to catch sunrise is by sleeping late rather than waking up early! So here are 5 of our favorite sunsets.
Sunset in Queensland, Australia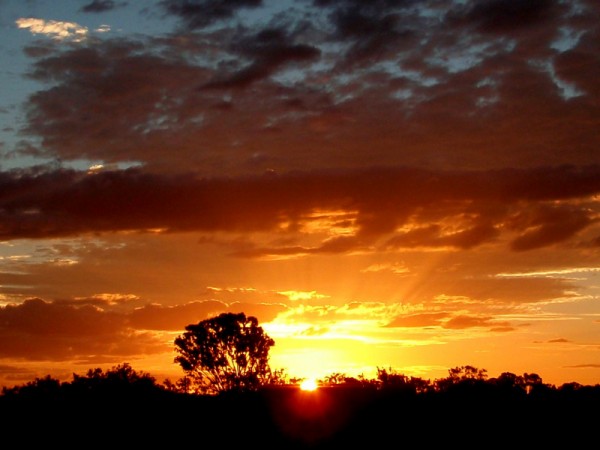 As we drove our motorhome the 2600 km from Sydney to Cairns, Australia we passed through many eucalyptus forests and savannah lands. From the road one evening we saw this gorgeous sunset. We stopped for a while to cook dinner and enjoy the beauty.
Sunset at Lake Taupo, New Zealand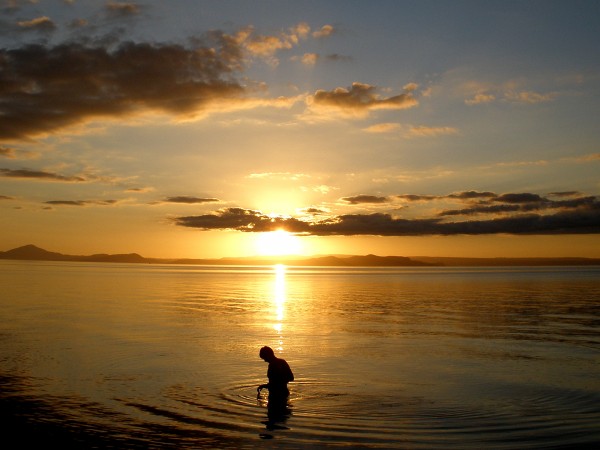 This is the most memorable sunset time for me. Not only because it's the prettiest and most peaceful one, and Ryan was looking so good in golden color, but also because it's the itchiest one!
Sunset from our room in Kato Stalos, Island of Crete, Greece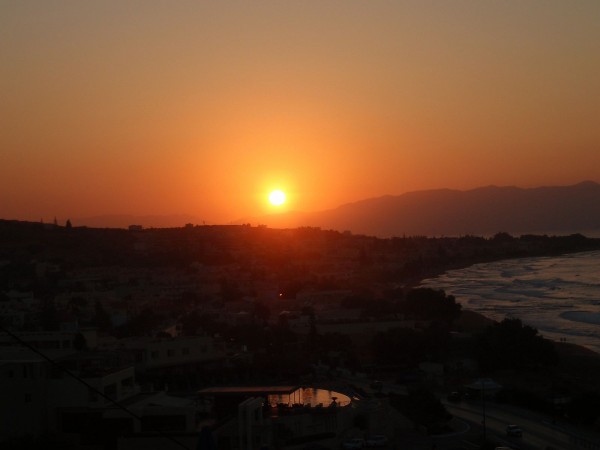 Yes, this gorgeous sunset was our daily view for several weeks from our near-beach clifftop (cheap) hotel room in the Island of Crete. Hardly a cloud in the sky when we were there, so amazing sunsets like could be expected everyday. We were so spoiled!
Sunset over the sand dunes in the desert near Dubai, UAE
After taking a wild 4WD jeep ride on the sand dunes in the desert near Dubai, we were entertained by 4 wheeler stunt action as the sun set. The sun, the pink sky, the 4 wheeler stunts, and the sand dunes created this beautiful sunset memory over the desert.
Sunset at Uluwatu, Bali Island, Indonesia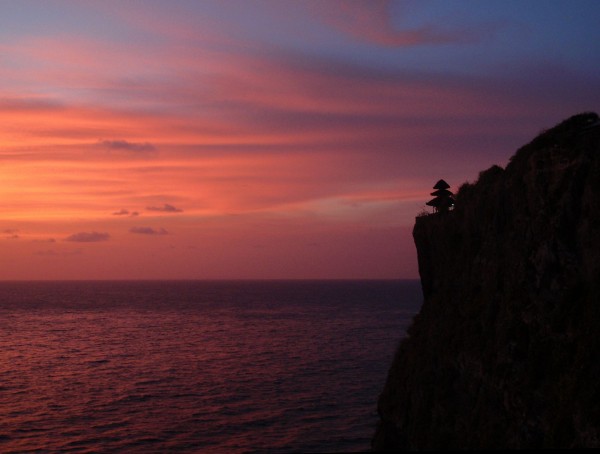 The Temple of Uluwatu in Bali perches high on the cliff overlooking the rough sea. I went to Uluwatu the first time when I was only a little kid, and when later on I went back to Bali with Ryan, I was dying to show Ryan the gorgeous sunset of Uluwatu. It didn't disappoint me. Breathtaking, just look at those colors! Deep red, orange, yellow, and blue were dominant in the sky. We enjoyed the moment so much even with big and fierce monkeys running around, ready to snatch tourists' sunglasses and cameras.
Which one from photos above do you like best? Have you seen sunsets from these locations? Do tell us your favorite sunset moment!