*Introducing you to our new series: Best of <Country> by Travelers Around the World!
First round: FRANCE
Every destination has its standard cliched icons (see the Eiffel tower above). But the best travel experiences are personal, and the things that stay with us are usually not the most famous, iconic sights, but those meaningful, inspiring experiences that make travel worthwhile. In this series, we asked travelers to contribute photos that best represent what their time in France meant to them.
We were amazed by the diversity of the pictures we got. They've made us seriously start thinking about heading back to France for another visit.We hope you are as inspired by these photos as we are!
* * * * *
1. The wines and cheeses
When we think of France, we think about grandeur, Tour Eiffel, Arc de Triomphe… Umm, really? Let's face it, when we travel to a foreign country, the first thing we seek is to discover its culinary traditions, and France's strongest battlefields are its wines and cheeses. The country is studded with local shops like this one from L'Isle sur la Sorgue, Provence, where travelers have the chance to capture so many features of French culture and style. First of all, the owner will invite you to taste his products, with the typical manners that make French people look so sophisticated. Yes, they do care about appearance, it's not just the language! The wine must be sipped from the proper glass, and please, don't use any knife to cut the cheese, you might spoil the shape and it might not taste the same. I admit, I'm a fan of French cheese, give me some Roquefort and a baguette and I'll forget about anything else. A trip to France is definitely not complete without experiences the country's local products, if they are famous all over the world, there must be a reason!
By Angela of Chasing The Unexpected

* * * * *
2. Champs-Élysées, Paris, on the night France beat Brazil in 2006 World Cup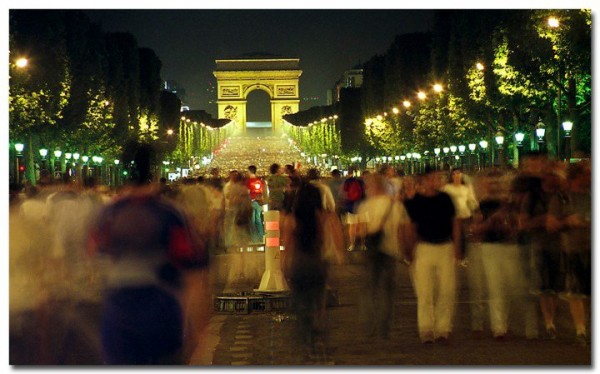 This photo was taken in Paris on the famous Champs-Élysées leading up to the Arc de Triomphe. Everyone in Paris seemed to be on that one street, celebrating France's victory over Brazil in the semifinals of the 2006 World Cup in Germany. It was an awesome experience and one that I will never forget!
By Andrew of Go Overseas

* * * * *
3. Market culture in Sanary-Sur-Mer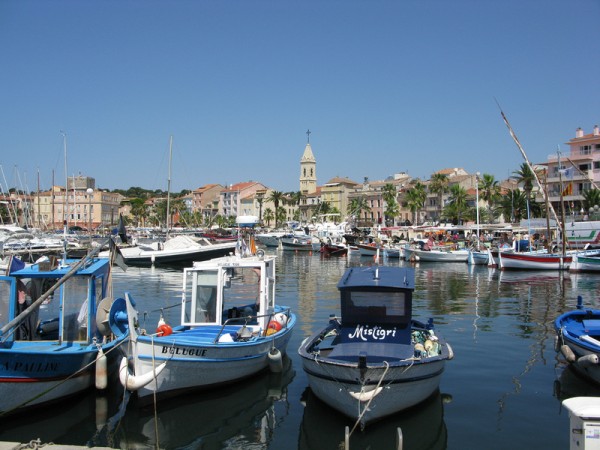 I loved winding my way through the south of France last summer, and especially spending time around the small town harbours and outdoor markets, like this one in Sanary-Sur-Mer. Markets are one of my favourite ways to experience a country and culture, and the south of France is full of them. It's still a common way of life for many locals to do their shopping.
By Nora of The Professional Hobo
* * * * *
4. Cafe Van Gogh, Arles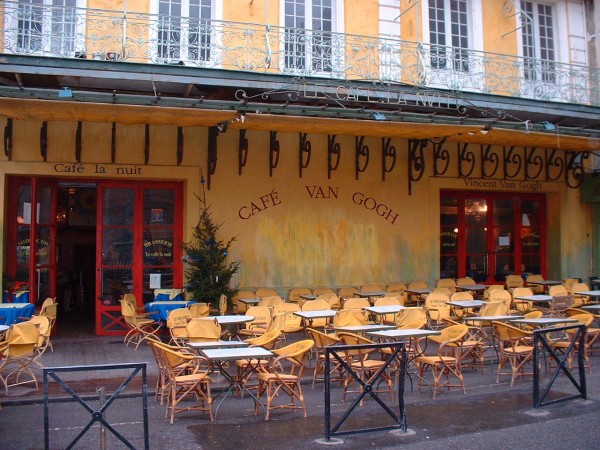 Van Gogh's famous painting The Cafe Terrace on the Place Du Forum, Arles, At Night, is based on this cafe and was completed in 1888. This was the same year in which he cut off his ear and was hospitalized in Arles. And even though the name has now changed to the Cafe Van Gogh, all other details are kept remarkably the same. We had to stop in for a drink (of course!) and enjoyed some of the best hot chocolate in all of our travels!
By Peter and Dalene from Hecktic Travels
* * * * *
5. A Blink of Color Illuminating a Gray Day in Paris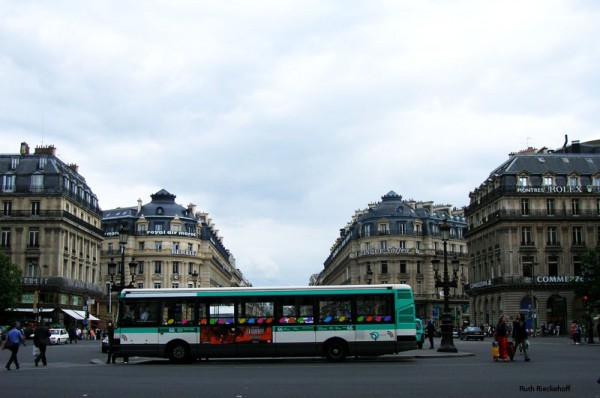 I call this photo "A Blink of Color Illuminating a Gray Day". It was taken near the Opera Garnier in Paris. What I like about the photo is the contrast among colors. You can appreciate the monochrome and uniform architecture of this part of the City of Lights. The cloudy day adds a nostalgic feeling to the picture. In a total opposite spin, the colorful bus enters the scene to steal the attention for a moment but in a blink it will disappear and leave the sight intact. In Paris, a beautiful scene is painted even in the grayer days.
By Ruth of Tanama Tales
* * * * *
6. Saint-Paul de Vence, near Cannes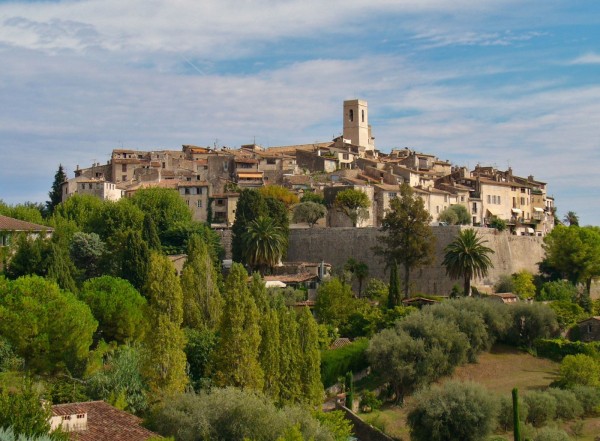 I had just joined the Queen Mary 2 cruise ship as a Tour Staff and the first port we visited was Cannes. My manager at the time asked me if I wanted to escort a small group tour to Saint-Paul de Vence, which I happily accepted. Upon arrival, I was so fascinated by this small, culturally rich village that I actually left the group and spent two hours wandering around on my own, during which time I realized that I had landed the perfect job.
By Earl of Wandering Earl
* * * * *
7. The Wrought Iron Museum of Rouen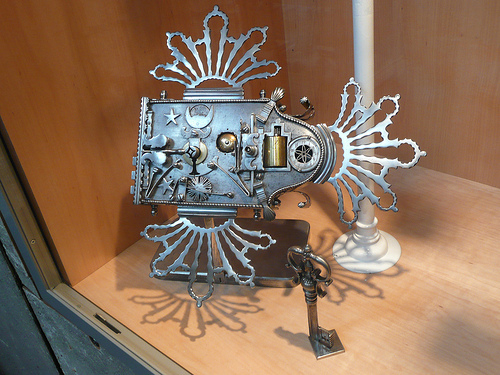 We went to Rouen to see the cathedral and medieval city, when my husband spotted something a little more unusual in the guide book: the Wrought Iron Museum. Housed in an old church, this is an amazing collection of keys, locks, scissors, knives, gates… and all things metalwork. It's not your typical museum collection, but it's a seriously impressive collection of engineering through the ages. Worth a trip if you're in the area; it was the highlight of our visit to Normandy, and we'll definitely go back to spend more time there.
* * * * *
8. Strasbourg, combining German and French influence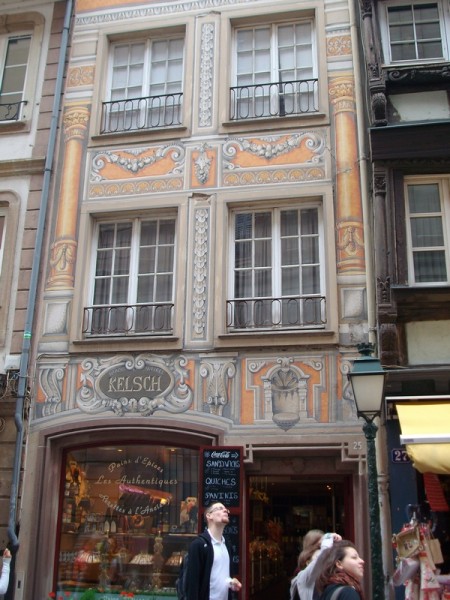 France to me is the mythical land over the river. The border is only 5km from where I live and less than an hour drive to Strasbourg, where this painted facade is. Alsace is the side of France I know the best, with its mix of German and French and was once owned by the Viennese rather than the "unspoiled" French lands of Paris and beyond. "Kelsch" painted on the facade is a German word, not French.
By Andrew of Grounded Traveler
* * * * *
9. Hanging out at the plaza in front of the Pompidou Center, Paris
The plaza in front of the Pompidou Center (modern art museum) in Paris is a great place to sit and people-watch. Street buskers, locals having lunch, tourists and every other type of person you can imagine hangs out here. Plus you can go into the museum for some great views from above.
By Adam of Travels of Adam
* * * * *
10. Pride Parade in Toulouse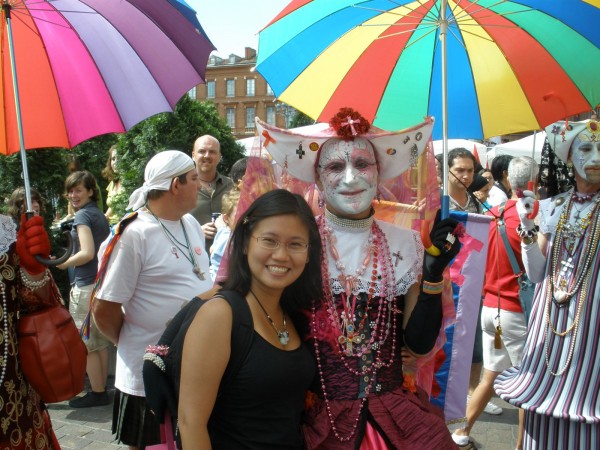 One of the things we most enjoyed in France was the many public celebrations. We were sitting quietly, munching our french fries while using the free wi-fi at one of the McDonalds in Toulouse, when we heard a lot of commotion from outside. Turned out that it was a Pride Parade! Large floats paraded down the street, followed by a party with stage performance in the plaza nearby. Even though our French was really poor, we were caught up in the happy spirit of the celebration around us.
By us, Ryan and Dina of Vagabond Quest
* * * * *
11. The gardens of the Palace of Versailles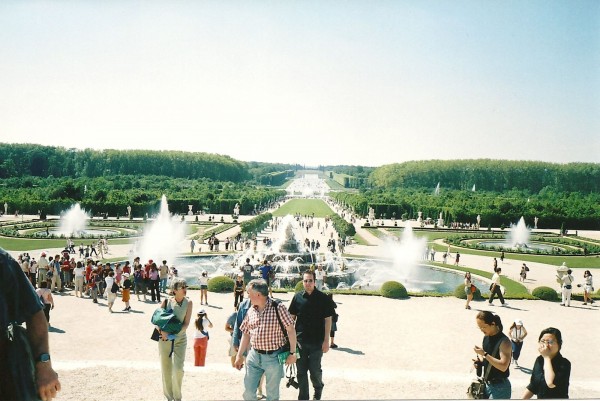 If you can visit the Palace of Versailles when the fountains are running – do it! The Palace is amazing on its own, but the gardens more than rivaled it on this day. They played classical music on the speakers throughout the garden and it was an absolutely magical experience. Definitely one of the most memorable things I did during my trip to Paris.
By Ashley of No Onions Extra Pickles
* * * * *
12. The "car wreck park" in the medieval town center of Boulogne-Sur-Mer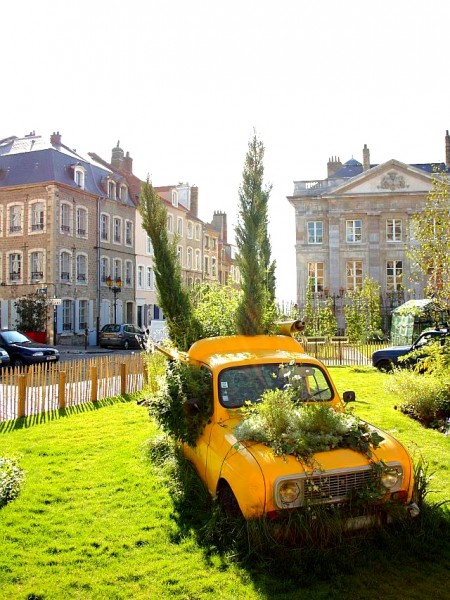 When we visit Boulogne-Sur-Mer, a small coastal town in Northern France, we came across a quirky "car wreck park" in the medieval town center which is still bordered by the original 13th century stone walls. Not far from the stunning Cathedral there is a little park where old car wrecks and car parts were transformed into flower pots or house entire trees now. Instead of benches you sit on discarded car seats and old mufflers serve as decoration in huge plant pots. An innovative way to recycle scrap metal!
By Dani & Jess of Globetrottergirls
* * * * *
13. Cheap(er) place to eat in Paris: Train Blu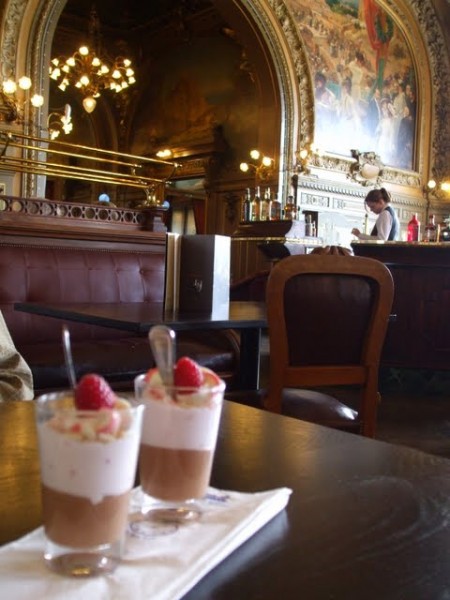 By accident, we discovered that you can eat in the bar area of the gorgeous Train Blu restaurant in Gare de Lyon with great food, the same over the top Baroque ambiance, and much lower prices than at the restaurant proper. Besides, we could eat earlier, and did not need a reservation. Check out Cheap(er) Places to Eat in Paris.
By Vera Marie Badertscher of A Traveler's Library

* * * * *
14. Love locks over Seine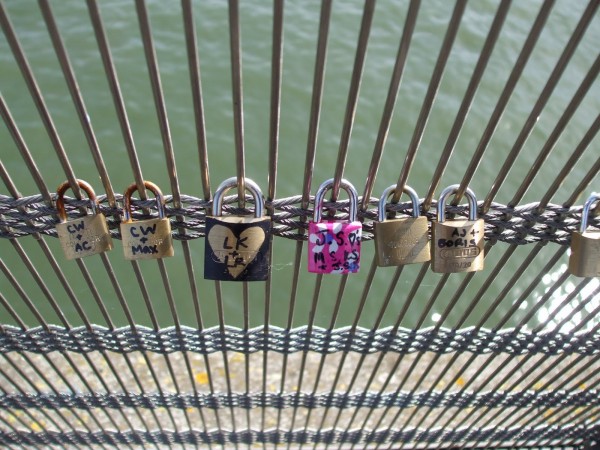 Love locks on a bridge over Seine, Paris.
By Vera Marie Badertscher of A Traveler's Library

* * * * *
So, tell us your favourite memory of France!
Got a photo and a story as well that you want to share here? Send ahead to dina@VagabondQuest.com, and we will update this article!

* * * * *

Next in the series: "Best of MEXICO by Travelers Around the World"
Join the fun!

Have you traveled to Mexico? Do you want to share your memory of it? Anybody can participate!
What do we need?

1 photo of Mexico that best represents your memories of Mexico. You must be the owner of the photo. Photo at least 600×400 px is preferred
A description, no more than 1 paragraph
Your name, and if applicable blog name and URL (alternatively: Twitter or Facebook)
Optional: If you have written an article in it, you can include the link. We will post it up if it fits.

Where to send your submission?

Email me at dina@VagabondQuest.com

What's the deadline?

20

22 Apr 2011 (

Wed

Fri) – That's 3 weeks from this post's date.
But don't worry, if you submit later than that, we will update the article with your submission!
For all of the contributors to this article: Thank you so much, this article wouldn't exist without you!