Many people love to see silly landmarks, just for the entertainment value. If you're one of them, don't miss the famous statue of Brussels, the Manneken Pis. It's often said to be the icon or the most photographed monument of the city. It's definitely one of the city's top tourist attractions, and probably the world's most famous statue of a urinating boy. Hey, if it's very famous, it can't be that bad, right? Perhaps it's decorative, perhaps it's quite big, at least bigger than its replicas around the world, right? Well, prepared to be disappointed: It's none of those things! Whatever you're imagining, even after what we've said, it's probably even smaller and duller than that.
So, let me try to describe exactly what it looks like. It's a bronze statue of a naked little boy, urinating merrily. Of course the boy is doing it appropriately by holding "it" with his left hand, to avoid making a mess. It's only 61 cm tall (about 2 feet). For a famous monument, this is not just small. It's tiny!
The fountain runs non stop. Poor little Julien, as French call him, must have drunk an awful lot of water to be able to make such an everlasting stream of urine. If you are lucky enough, he is connected to a keg of beer and the realistically yellow beer-urine will be caught in cups and given to you. If that was the case when we were there, it would've been my highlight of Brussels!
Another good time to visit the bronze boy if when he wears some seasonal costumes – he has hundreds of them – such as Count Draculla or Santa Claus costumes. Imagine the indignity of Count Dracula urinating in public. With that many costumes from around the world, guess which costume we got to see? None! It was the butt naked Julien! Maybe I should consider us lucky because we got to see the statue in its original state.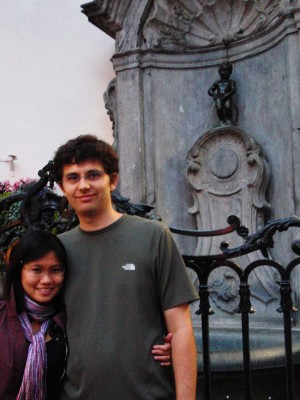 To give credit to the Manneken Pis, it does have some historical value. To start with, this age-defying boy is almost 400 years old. Jerome Duquesnoy created the boy in 1619, and probably you want to be there in the year 2019 to see how Bruxellois celebrate his quad-centennial. There are several legends around the boy: in my favorite version, the boy is actually a two year old lord that at one point urinated over his enemies who were so demoralised they lost the battle.
If you love the urinating boy, you might want to see his female equal: Jeanneke Pis. She's a statue of a little girl with pigtails, squatting, and guess what? Urinating! Duh! In her 20s, Jeanneke is much younger than Julien.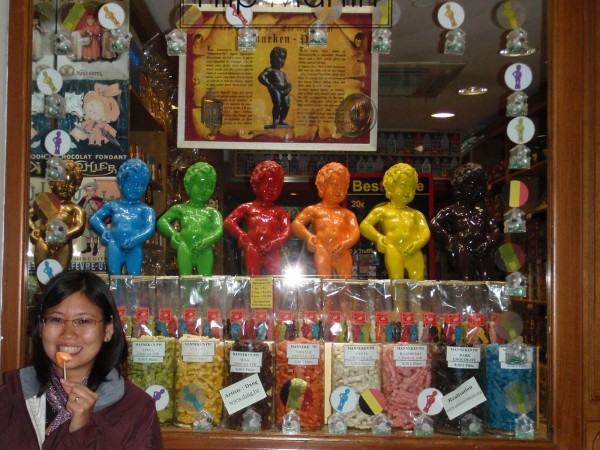 Want to bring home a Manneken Pis in more delicious format? Why not grab a full size chocolate statue of Manneken Pis. He even comes in various gaudy colors! I'm not sure the chocolate replicas come with the urinating hose, but even if not, I think you can modify it yourself with your favorite liquid to enjoy!
It was pretty disappointing, but we had a lot of fun joking about this little fellow and in the end we're glad we went. Have you seen an overrated tourist attraction? Something that's so silly it's fun? Share your experiences in the comments!