Ever heard of an island country called "Sint Maarten"? Sint Maarten is a constituent country of the Kingdom of the Netherlands in the Caribbean. It shares an island with a French overseas territory, Saint-Martin. Confusingly similar names, and the locals just refer to the 2 countries as the Dutch side and the French side. Just like other islands of the Caribbean, Sint Maarten has many beautiful white sand beaches with clear blue water. However Maho Bay Beach in Sint Maarten offers something that other beaches don't have: the chance to stand right at the end of a major runway while airplanes blast by just overhead.
Wait, what did you say?
Maho Bay Beach is located at the end of the runway of Princess Juliana International Airport of Sint Maarten. Imagine, this beautiful beach is only separated by a small road a few meters wide and a fence, from the end of the runway, where airplanes are landing. Due to the shortness of the runway path, the airplanes landing here try to touch the ground as close as possible to the starting point, right up against the beach. If you want to enjoy a peaceful atmosphere of a beach, do not come here. But if you want to feel the strange sensation of basking just several meters below an airplane, this is the place for you!
Arriving at the beach, Ryan and I immediately ran excitedly toward the sandy area that is located in front to the runway. We saw everybody else were lying down rather at a distance, not directly under the flight path. How odd, we think, isn't directly under the airplane a much more exciting place to be?! Well, whatever, that was great for us, it meant it wasn't too crowded.
We took out our green sarong, a gift from my best friend back home, and laid down, relaxing under the sun, while waiting for an approaching airplane. We wondered how long we'd need to wait, but after just a few minutes, Ryan's eagle eyes spotted an approaching airplane from above the sea, flying low straight toward us. Wow! We sat up straight and stared at it.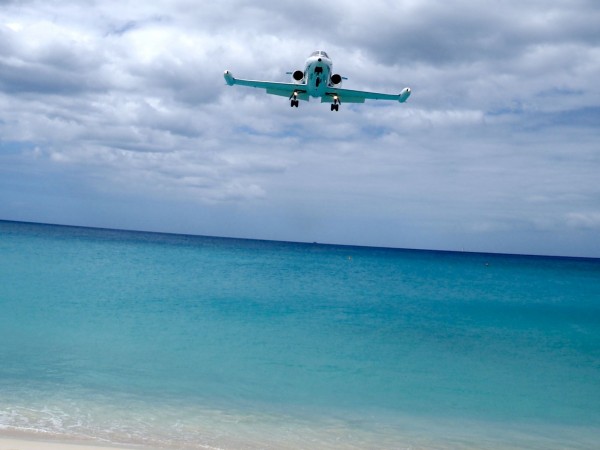 The plane was flying pretty low, and as it came closer, I started to feel alarmed. What if a mistake happened and the plane landed before it should? What if it landed too soon, on the beach, and crushed us before we could escape? After all, we are just a few meters from away from the beginning of the runway! An airplane is moving with a very high velocity, and there will not be enough time for us to judge it's whether or not it's going to be a safe landing.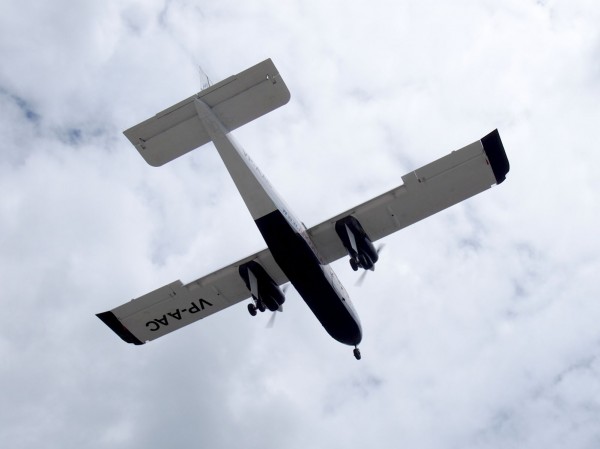 The airplane's roar grew louder and louder as it approached us. The wind caused by it blew the sand around us. We laid down, stared to the sky straight up, and the airplane flew by our head in a split second. Zzing!! Wow, it was flying so low above us, just a few meters! Very soon after, it landed behind the fence, just a few meters behind us. Phew, wow! So close, but it didn't bowl us over. What a cool and weird sensation!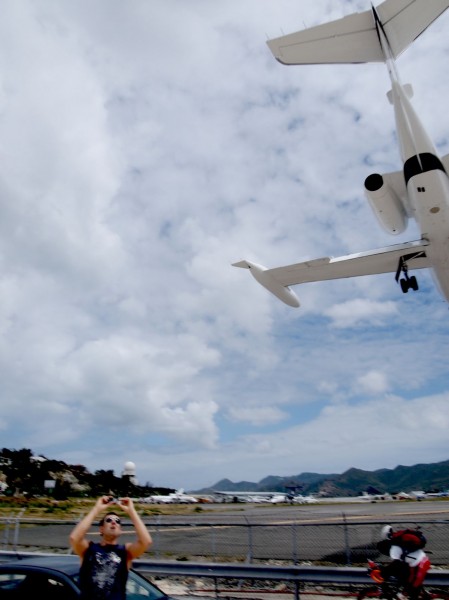 After watching several other landings, our confidence that the airplane wouldn't crush at us grew. It seemed quite safe. Afterall, this beach is famous for the landings. Little that we knew that time, that the more terrifying moment is not the landing, but the take off!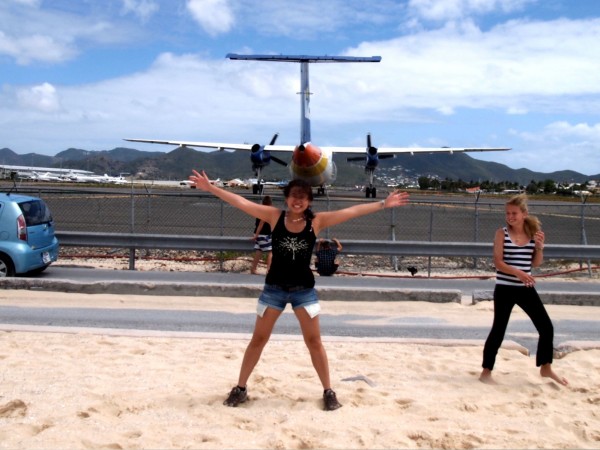 This end of runway that serves as the starting point of the landing, also serves as the starting point of the acceleration for take off. An airplane will taxi to this point and orient itself to the runway, and will sit there for a moment before start accelerating. Have you ever stood behind an airplane at this moment? It's quite crazy, let me tell you!
As the departing airplane approaching this end, Ryan and I were cheering excitedly. The roar was thundering in the air around us, so loud that I couldn't hear whatever Ryan tried to say at me. The airplane was slowly turning around, facing the runway, showing its rear end to us. Something that in hindsight seems like an obvious problem, but at the time we didn't realise: the wind caused by the jet engine is really strong, and we were right at only several meters away behind it! Ryan snapped several pictures of me and was ready to take the video. We saw some little kids tried to clutching on the airport fence and they screamed to their lung, but their voice was masked by the engine roar. The wind was strong, but we managed to stand still. Not for long! The jet engine then worked harder than before. It roared louder, and the wind now got even more brutal, the beach's water line was retracted. and our bodies were pushed away! Good thing.
And here was the worst part, remember that we were on sandy beach? Those beautiful white sand was now blasted so strongly too by the wind, and the mass of them hit our body full force: we got sand-blasted! It felt like being bombarded by thousands of tiny sharp bullets! We tried to run away from this to the side, but we got pushed back to the water. We must looked like a couple of crabs running sideways, trying to seek a shelter. But nowhere to hide! The further away we run from the airplane, the more mass of sand blasting us. It hurt so much, I believed that our skin was sand-blasted to perfect smoothness! Still screaming, a mix between excitement, pain, and a little worry that this might get worse, the airplane finally started accelerating away. Phew, we made it!
Now we understand why other people choose to lay down not directly in the end of the runway. They don't want to get sand-blasted, either because it's not comfortable at all, or because they already have a very smooth skin.
It could be worse than just that, here's a quote from Wikipedia:
"People standing on the beach may also be blown into the water because of the jet blast from aircraft taking off from runway 10."
On this, Ryan commented "would have been bad for our new camera."
I think getting blasted through the air is scarier than losing a camera!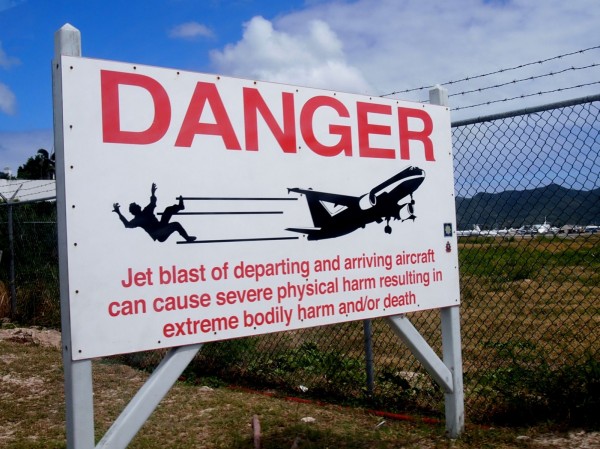 Now we also understand the fence warning that we saw earlier. The warning says "DANGER: Jet blast of departing and arriving aircraft can cause severe physical harm resulting in extreme bodily harm and/or death." Just imagine what would happen if there are rocks or other sharp/heavy objects thrown to your head, we can see that it might kill you – scary. The runway is wisely fenced off, and you should not go near it. Clutching on it like the kids mentioned above is totally not recommended. Did we make a safe distance just by standing several meters behind it, on the beach? The beach area is opened to public, so we believed so. Or at least we hoped so!
Ah, what a fun, exciting, exhilarating, but weird beach experience!
Any similar stories to share? Close encounters with fast moving objects? Anyone get blasted through the air and live to tell about it?
*Update: The pilots perspective*
A funny reply from JetAviator7@ All Things Aviation:

"Cool shot of the Lear 35 in the top photo. I have landed here before, and it is just as interesting for us pilots to see the nuts on the beach as it is for them to watch us land.
We have to make sure we don't look too closely (especially the pretty girls) lest we make a poor landing."