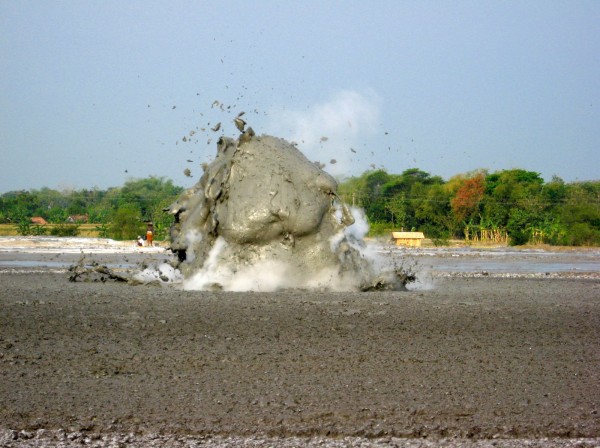 Imagine walking on a crackling surface of dried mud, and you can feel that even though the surface is solid there is movement underneath. Then as you step, your feet break the crust and you drop ankle deep into warm mud. Then as you free yourself and start to creep forward the ground in front of you starts gurgling and belching, shooting muddy water up a half meter into the air.
That's what happened to us when we traveled to a mud volcano field called Bledug Kuwu, located  in Central Java, Indonesia. We crossed the field as we wanted to see the main eruption from close by. Even though in the large field there are many of small eruptions, in a few spots where the mud erupts quite high.
We took a few pictures of the main eruption, and this one really stuck out. I call it the "Pikachu eruption" because I think the shape resembles Pikachu, that main bright yellow Pokemon (don't tell me you don't know it!)Â  This one shot way up into the air, about 10 meters! Well, it's not easy to predict the real height, but that's our best guess. It was quite amazing to see a mud volcano eruption up close like this, which was also a new natural phenomena for us at that time.
So, have you seen a mud volcano? Any other geothermal activity, like regular volcanoes or hot springs? Share it with us!