After the deep freeze in Canada, the warm tropical weather of Puerto Rico was welcome at first. But we wilted fast in the heat, so if we missed some important sights, it's because we were recovering under air conditioning.
Before the United States took over in the late of 19th century, San Juan in Puerto Rico was an important Spanish gateway to the Caribbean islands since the 16th century. Fortresses and city walls were made to fortify this island to protect their harbors from the invaders. Behind the mighty stone walls, the old city of San Juan developed.
Now inside a fully air conditioned room, we want to share with you the highlights of our short visit to Old San Juan of Puerto Rico!
1. Castillo San Cristobal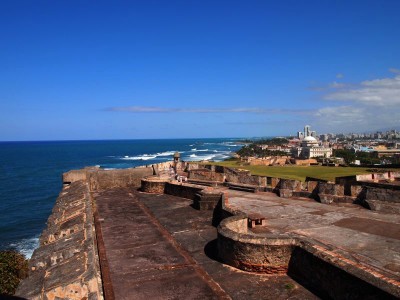 There are 3 fortresses guarding Old San Juan, 2 of them on San Juan island, and Castillo San Cristobal that is said to be one of the largest Spanish fortresses in the new world, is one of them. The fortress itself is architecturally beautiful and the coastal view is fantastic. You can also see a dark room in the dungeon where the prisoners were kept in the past, where the wall is covered by galleon sketches by the prisoners that yearned for the outside world.
2. Castillo San Felipe del Morro (El Morro)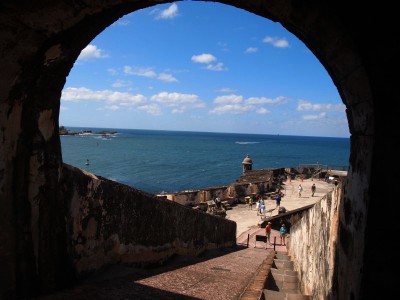 Located in the end of the island, this fortress together with another one in a tiny piece of land across the strait, bombarded any unwanted ships that were daring enough to approach San Juan Harbour. Just like Castillo San Cristobal, this rather symmetrical and triangular fortress is also beautiful. My favourite part is a straight ramp through a long tunnel with staircases on both sides. I wonder whether they used this ramp to move around heavy cannons in the past.
3. City wall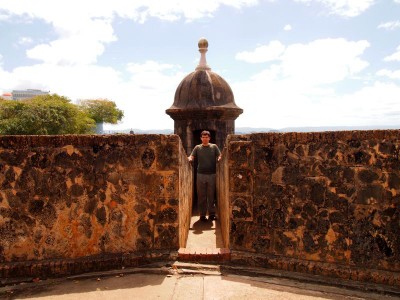 These city walls served as protection for San Juan in the past. Even though some stretches of the walls have been removed to allow the city to grow, you still can see most of it surrounding Old San Juan, from the Castillo San Cristobal to El Morro, down to the San Juan Gate. This several-foot-thick wall is massive and imposing. It's fun to walk through the gaps in the wall, just don't fall over the edge, since it's not gated (leash your kids). Check out the sentry boxes along the wall, even though they mostly smell like urine.
4. Coastal view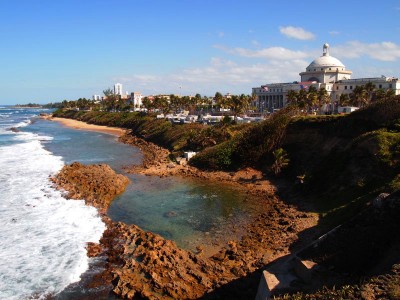 From the height of the city walls and the fortresses, we enjoyed the gorgeous views to the deep blue Atlantic ocean, the shore line, and Old San Juan City with its pretty pastel colored houses.
5. The view of the dangerous La Perla slum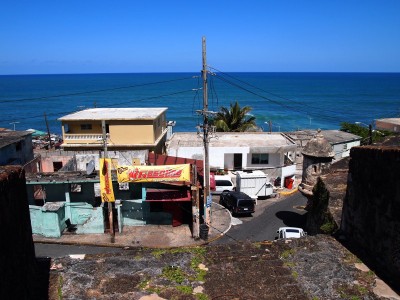 La Perla is a neighbourhood outside the city wall between the 2 fortresses facing the ocean. Ryan mentioned it was the dangerous part of the city, and tourists are strongly recommended not to go there. This slum neighbourhood, still somewhat in pastel nuance but here and there decaying, is such a contrast with the nice buildings in the rest of Old San Juan. Attracted to this decayed pastely neighbourhood, I just took some quick photographs from the gaps in the city wall. Two guys down there waved to me, signaling me to come down. I just waved my hand back, and left. It looked quite normal and peaceful to me. Later on we asked about it to some locals. They said the part is indeed not recommended for tourists to go, since it's a drug dealing neighbourhood. They might sell you drugs if you are lucky, or you might get shot if you are not.
6. Santa Mari­a Magdalena de Pazzis Cemetery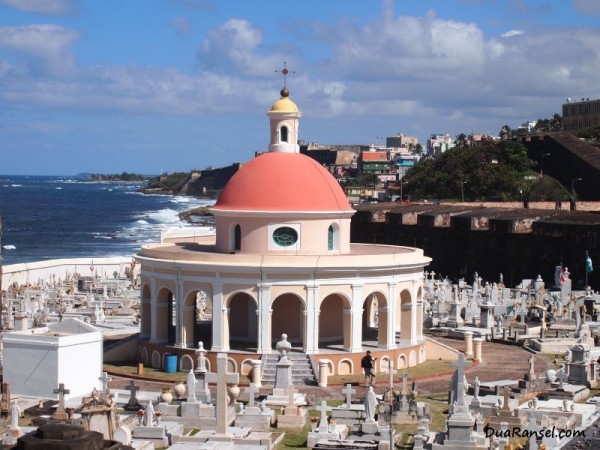 Lying outside the north city wall adjacent to the El Morro is the Cemetery of Santa Maria Magdalena de Pazzis. This white cemetery looks gorgeous, walled by the city wall in one side and the blue Atlantic Ocean on the other. In the middle of the cemetery sits a charming pink domed rotunda.
7. Iguanas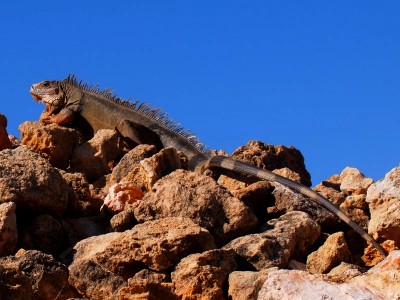 In the yards of the both fortresses, there are a lot of iguanas sun basking. They are big, green, and spiky on the spine. When they raised their heads, we could see that fan shaped neck skin hanging between the head and the body.
8. Walking around Old San Juan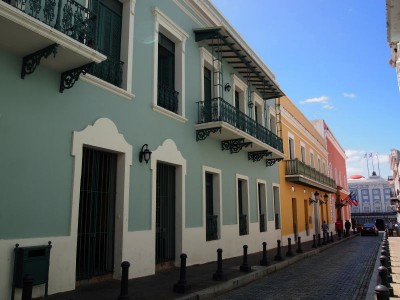 Old San Juan is not great only for the fortresses and the city walls, but also the charming historic colonial neighbourhood. Nowadays there are still people living and working in this area, although it's extremely touristy with a lot of restaurants and stores. Even though it's more touristy than we'd like, they have preserved this historic town well, so it still has its pretty and old appearance from colonial times.
9. Houses and buildings in various pastel colors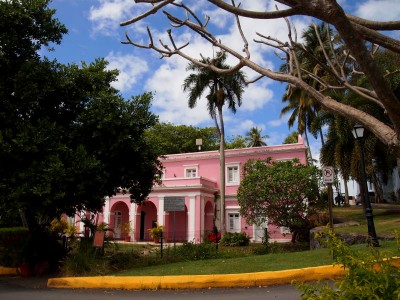 These pastel colored buildings are very charming, they also come with antique looking doors and windows. So many different color they have, all in pastel tune: blue, pink, red, orange, green, brown, yellow, purple, and it seems they are in agreement with their neighbours that no two buildings stading side by side could have the same color.
10. Dark blue cobblestone road
Cobblestone road is charming enough, but here, it's in dark blue hue too! (See picture #8)
11. Pigeon's Park

Pigeon's Park? This so called Pigeon's Park in the map, near the Cristo Chapel, named appropriately to the fact that there are so many pigeon in that small park. These pigeons didn't care when we walked through them, so we had to be careful not to step on one. The park is walled in one side, and the wall has a lot of square holes. And guess what, each holes are jam pack with pigeons! We escaped from this park before any droppings fell on us. We even saw a small girl who had actually picked up one of the pigeons and was holding it in her arms!
12. San Juan Cathedral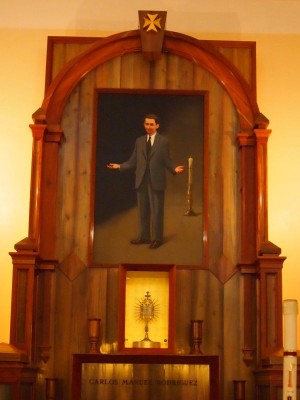 This white washed church looked so in tune with the rest of the old town. The main altar and ceiling were really nice, but there's one of painting on the small chapel that puzzled us: a man in a grey suit! I mean, usually we see the paintings of holy figures in ancient outfits and backgrounds, not a modern man dressed for a day at the office. Apparently he is the "blessed" Carlos Manuel Rodri­guez, a Puerto Rican that was beatified by Roman Catholic Church in 2001 and a candidate for sainthood.
13. Totem Telurico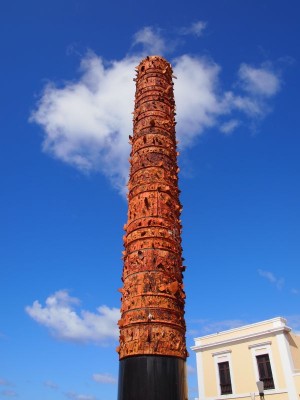 Totem Telurico is a contemporary sculpture in the Plaza del Quibto Centenario, built in 1992 for commemorating of the 5th centenary of the discovery of America. This totem has a little bit unusual appearance, it's brown like clay and rather featureless. That's the only thing I can say about it, but in its modesty, it looked gorgeous against the blue sky.
14. Piña colada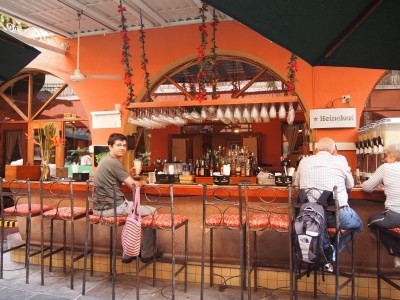 Drinking the piña colada in its birth place, couldn't get more authentic than that! This blend of rum, cream of coconut, pineapple juice and ice is so refreshing after a long walk in this hot city. We are aware that there are several different version of how or where piña colada was first invented, but for us, it's the Barrachina restaurant!
15. Puerto Rican food


Mofongo and pork chop
We tried mofongo, the Puerto Rican fried plaintain based dish, as well as Puerto Rican tamale. We thought those were okay, not going too wild about it. We certainly enjoyed the fried plantains that you can order as a side dish.