Our first visit to New York City, Ryan and I did the classic tourist route. You know, the Statue of Liberty, the Central Park, NY Times Square, Saint Patrick Cathedral, and we even visited the extremely tacky Madame Tussauds Wax Museum! Since then, we have been back to the New York City several times, because it's a convenient hubs between Canada and the world. As for our last time in NY, we only had one full day. We thought that it would be fun to spend the day  visiting many famous places and perhaps meeting the stars from our favorite movies and TV-shows around Manhattan!
LUGGAGE DROP OFF
We arrived in the Big Apple early in the morning, after our overnight Megabus ride from Toronto. After fueling up our body and soul with a cup of coffee and breakfast, the first thing to do was drop off our backpacks. It's not impossible to walk around with them, but certainly we could do more without. It's a bit tough to find a place to leave your bag in Manhattan, so I was happy to find Cubby Luggage Storage which is pretty close to where the Megabus drops off.
PLANNING OUR ENCOUNTER WITH HARRY POTTER
Now that our luggage was gone, we "rushed" to get the Rush Tickets for a Broadway Musical Show. According to the cheap ticket information on playbill.com, "How to Succeed in Business Without Really Trying" was available for $30 rush tickets, perfect! Harry Potter, I mean Daniel Radcliffe, was the star of the show, and I was dying to see him in person! We joined the line early and snagged a couple of seats. With tickets to see Harry Potter live in our hands, we set off to see the city!
HIT 40 FILMING LOCATIONS IN A FEW HOURS
Because our time was limited into 1 day only, we wanted to use our time as efficiently as possible. We decided to join the On Location TV&Movie Sites Tour, a guided 3.5 hours bus tour to visit over 40 TV and Movie locations in the Manhattan area. Not only famous and easy to find locations like the Central Park, Times Square, and the Empire State building, but this tour will also bring you to the more difficult to find favorites like the apartment building from Friends, the fire station in the Ghostbusters, the diner from Men in Black, and the townhouse from the Cosby Show!
As the finale, the bus dropped us off in the front of the Seinfeld's Soup Nazi stall! Soup, anybody? Make sure you know what you are going to order!
CENTRAL PARK
We still had many hours before our Broadway show started, so we decided to chill out a little bit in Central Park. On the way there, we stopped at the famous Papaya King (that Kramer craved in Seinfeld) to enjoy some hot dogs and papaya juice. There's no seating inside, just some spots where you can enjoy your lunch standing up, while staring at big jugs of ketchup and mustard.
Many happy movies were filmed here in Central Park, like When Harry Met Sally and Enchanted. But this mega park also has a reputation as a scary place, where they always seem to be finding dead bodies in Law and Order. But really, with so much activity, and there's not really many places for criminals to hide.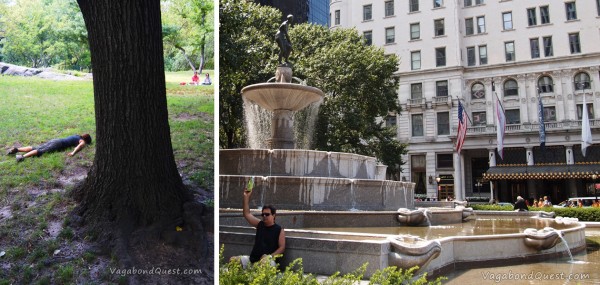 THE EMPIRE STATE BUILDING
The sun went down, and we wanted to enjoy the shimmering New York lights under the night sky. We climbed up the Empire State building like  King Kong, and the view from the top was gorgeous indeed!
BROADWAY TIME: MEET HARRY POTTER!
As a big Harry Potter fan, meeting with Daniel Radcliffe, Harry Potter come to life, has been my dream. Seeing him singing and dancing as well? I couldn't believe such an opportunity exists. But here it is, the show "How to Succeed in Business Without Really Trying" starring Daniel Radcliffe himself! Our rush tickets put us in the fourth row from the stage, so close to the living Potter! Enchanted by him, still, I have to admit that the performance from his partner, 5-time Emmy winner John Larroquette from Night Court, was the more brilliant one.
After the show ended, we were waiting around the backstage door to meet up with the stars. So many people were there, and after a half an hour standing under a mild rain, Daniel Radcliffe showed up… for a very brief 1-2 minutes! There were a lot of people waiting for him, only 10% in the front line actually got any moment with him. We were among the lucky one. I was talking to him, he was talking to me, I got his signature, and we took a photo together.
It's Harry Potter, people, I was on cloud nine!
END OF THE DAY: GRAB THE BACKPACKS, AND DONE!
We had a Cinderella moment here!
For the sake of meeting with Daniel Radcliffe, we left the theater later than we should have and now we had to run to arrive in the Cubby Luggage Storage before it closed at midnight. We ran and ran, took a metro ride, and ran again. We barely made it! Ryan reached the place five minutes before midnight, and I was a few minutes after that. We were in, thank goodness!
What a day, chasing the stars in New York City!
A metro ride to our airport hotel, and we fell asleep as soon as our heads touched the pillows. 10 hours later  we were up in the air, on our way to Hong Kong.

Thank you to On Location Tours for sponsoring our On Location TV&Movie Sites Tour!